As entrepreneurs we often need an extra dose of inspiration to make it through the day! We are always looking for some of the best words of wisdom from some of the most successful business owners and entrepreneurs out there!
If you follow MiloTree on Instagram, you'll see a steady stream of some of the best words from fellow entrepreneurs! You can also listen to the Blogger Genius podcast to hear the latest from the small business owners of today!
The best quotes for entrepreneurs
"You can't just ask customers what they want and then try to give that to them. By the time you get it built, they'll want something new."
-Steve Jobs; CEO and co-founder of Apple
Stay afraid but do it anyway. What's important is the action. You don't have to wait to be confident. Just do it and eventually the confidence will follow.
– Carrie Fisher; actress, writer and humorist
Sometimes the ideas just come to me. Other times I have to sweat and almost bleed to make the ideas come. It's a mysterious process, but I hope I never find out exactly how it work. I like a mystery, as you may have noticed.
– J. K. Rowling; author of the Harry Potter series and founder of Lumos
Quality is the best business plan.
– John Lasseter; Chief Creative Officer of Pixar
Tip for entrepreneurs
If you are building your following on social media or increasing your newsletter subscribers we have JUST the tool for you! MiloTree is a must-have tool for entrepreneurs because it helps convert visitors to your blog into raving fans! See how you can grow your influence by installing this quick and easy app.
It takes 2 minutes to set up, and you'll be on your way to growing your following like never before!
Ready to take the leap? Install MiloTree today! 
Life fulfilling work is never about the money, when you feel true passion for something, you instinctively find ways to nurture it.
-Eileen Fisher; Clothing Designer
I never dreamed of success, I worked for it.
– Estee Lauder; Business owner, co-founder of a cosmetics brand
Honesty and integrity are by far the most important assets of an entrepreneur.
– Zig Ziglar; motivational speaker
Don't be afraid of what you don't know. That can be your greatest strength and ensure that you do things differently from everyone else.
– Sara Blakely; Billionaire Businesswoman, founder of Spanx
As entrepreneurs, we need to know that what we're doing is making a difference, and that it's leading us somewhere.
– Kate Erickson; Story editor and script coordinator
A leader takes people where they want to go. A great leader takes people where they don't necessarily want to go, but need to be.
– Rosalynn Carter; Former First Lady of the United States
A journey of a thousand miles begins with a single step.
– Confucius; Philosopher
Anything worth having is worth working for.
– Andrew Carnegie; Philanthropist
Chase the vision, not the money, the money will end up following you.
– Tony Hsieh; Zappos CEO
Continuous improvement is better than delayed perfection.
– Mark Twain; writer, entrepreneur, humorist
Do not be embarrassed by your failures, learn from them and start again.
– Richard Branson; Investor and philanthropist
Done is better than perfect.
– Sheryl Sandberg; Operating Officer of Facebook, founder of leanin.org
Don't worry about failure you only have to be right once.
– Drew Houston; CEO of Dropbox
Dreams don't work unless you do.
– John C. Maxwell; Author, Speaker and Pastor
Fall seven times and stand up eight.
– Japanese Proverb
If opportunity doesn't knock, build a door.
– Milton Berle; Comedian and Actor
If you do what you've always done, you'll get what you've always gotten.
– Tony Robbins; author, entrepreneur, philanthropist and life coach
If you ask people what they wanted, they would have said a faster horse.
– Henry Ford; Creator of the Model-T and the assembly line
It does not matter how slowly you go, so long as you do not stop.
– Confucius; Philosopher
It's so hard to be a person who never gives up.
– Babe Ruth; Major League Baseball Pitcher
Life is like riding a bicycle. To keep your balance, you must keep moving.
– Albert Einstein; Physicist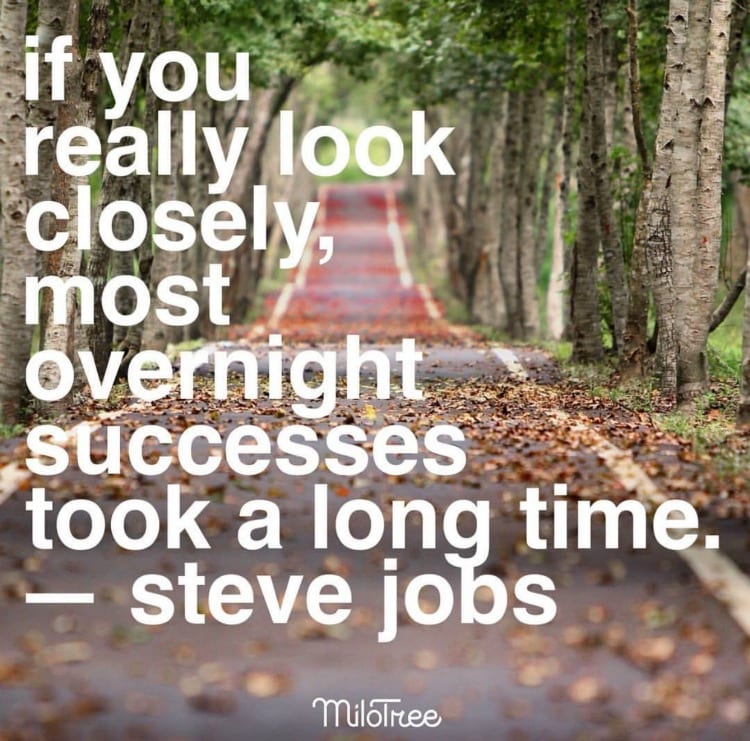 If you look really closely, most overnight successes took a long time. – Steve Jobs; CEO and co-founder of Apple
I've learned that people will forget what you said, people will forget what you did, but people will never forget how you made them feel.
– Maya Angelou; Author, Screenwriter, Civil Rights Activist
Waiting for perfect is never as smart as making progress.
– Seth Godin; Author and former dot com business executive
Success is walking from failure to failure with no loss of enthusiasm.
– Winston Churchill; Former Prime Minister of the U. K.
The beautiful thing about learning is nobody can take it from you.
– B. B. King; Veteran and musician
The difference between ordinary and extraordinary is that little extra.
– Jimmy Johnson; Professional stock car racer
The expert in anything was once a beginner.
– Unknown
The greatest asset of a company is its people.
– Jorge Paulo Lemann; Brazilian investor
The only thing worse than starting something and failing… is not starting something.
– Seth Godin; Author and former dot com business executive
The pessimist sees difficulty in every opportunity. The optimist sees the opportunity in every difficulty.
– Winston Churchill; Former Prime Minister of the U. K.
The secret of getting ahead is getting started.
– Mark Twain; writer, entrepreneur, humorist
You can have everything you want in life if you just help enough people get what they want in life.
– Zig Ziglar; Motivational Speaker
Do you have a favorite inspiration quote from an entrepreneur? Share with us on Instagram!
Don't forget to take advantage of MiloTree to help you in your own entrepreneurial journey!