In today's episode of The Blogger Genius Podcast, I'm excited to share with you some insights from Part 3 in my series on selling. If you missed Part 1 and Part 2, you can hear them here.
Today I delve into how to use psychology to sell. I also share how I use these techniques in how I market and sell MiloTreeCart.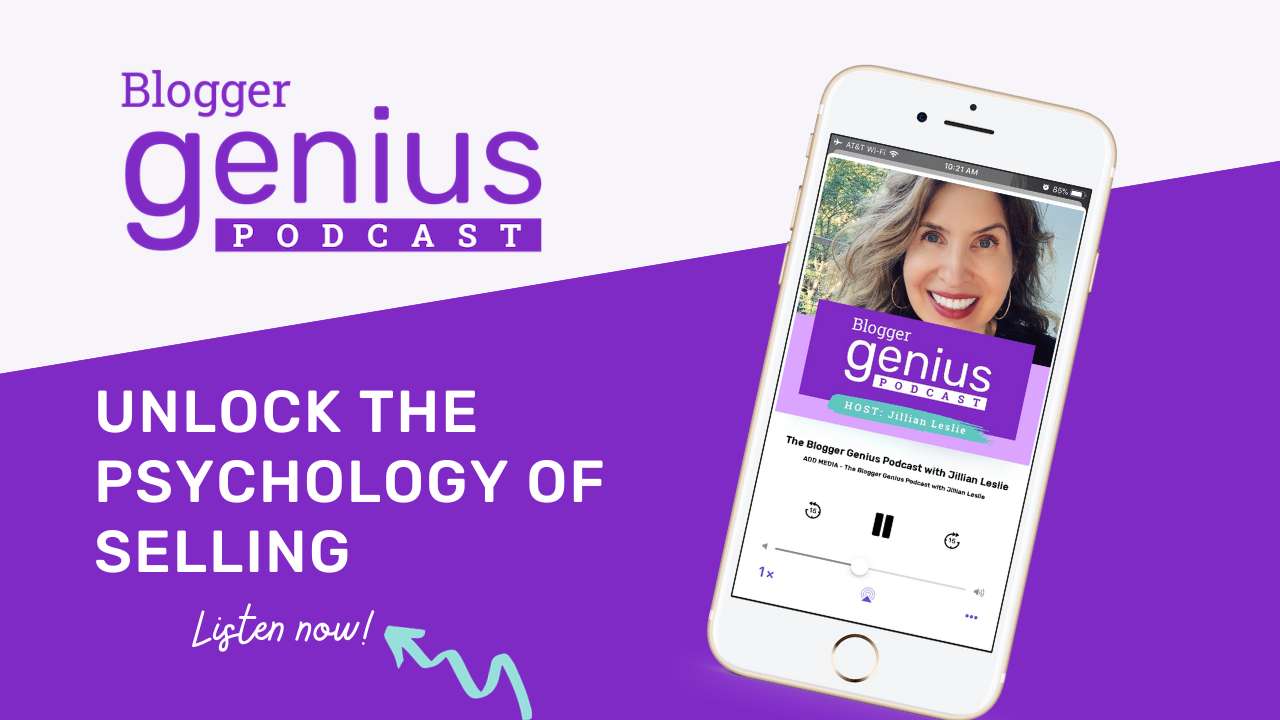 Simplifying Digital Sales
As a non-techie myself, I understands the challenges that come with selling digital products like downloads, workshops, memberships, and coaching. That's why I created MiloTreeCart with my husband, a tool designed to simplify the process and eliminate the need for complicated tech and expensive monthly subscriptions.
MiloTreeCart comes with a host of features including: fill-in-the-blank sales pages, checkout pages, a sales dashboard, upsells, and over 100 done-for-you marketing materials. What's more, customers receive support from a team that genuinely cares about their success.
A Limited-Time Lifetime Deal
For a limited time, we're offering a lifetime deal for MiloTree Cart, priced at $349, with the option to pay in three easy installments. Customers have quickly made back their investment by hosting paid workshops or selling e-books. And remember, there's no risk involved as MiloTreeCart comes with a 30-day money-back guarantee. Find more here.
The Psychology of Selling
In the episode, I also delve into the psychology of selling. As sellers, it's crucial to focus on selling the results, solutions, and transformation that our products offer, rather than just the features. By framing the benefits in terms of saving time, reducing stress, and improving well-being, you can appeal to customers' desires for a better version of themselves.
Show Notes:
Subscribe to the Blogger Genius Podcast:
Bonuses Over Discounts
I also highlight the importance of offering bonuses instead of discounts to maintain the value of your brand and products. By providing surprise and delight to your customers, you can create a positive experience that keeps them coming back for more.
Let's Connect
Please reach out to me at jillian@miloree.com with any questions, comments, or suggestions you may have. And if you found this episode helpful, please share it with anyone who could benefit from these selling tips.
Mapping Out the Customer Journey
In my next episode on selling, I'll be diving into the significance of a customer journey and how to effectively map out your own.
Other related Blogger Genius Podcast episodes you'll enjoy:
Transcript: #297: Secret Truths About Selling – Part 3 (Unlocking the Psychology of Selling)
Jillian Leslie (00:00:00) – My name is Jillian and I'm hosting the Blogger Genius podcast. Before we get into today's episode, let me ask you a question. Are you wishing you could sell digital products like digital downloads or workshops, memberships, coaching mini courses, but you don't know where to start?
Get MiloTreeCart Now for a Limited-Time Lifetime Deal!
And are you tired of complicated tech and spending way too much money on monthly subscriptions? Well, you need a tool that makes all of this simple, and the answer is Milo TreeCart. So this is the tool we built for non techies who want to tap into a new income stream with military cart. You get fill in the blank sales pages, check out pages, a sales dashboard upsells over 100 done for you, marketing materials and support from people who seriously care.
And right now, for a limited time, we are selling MiloTreeCart for a lifetime deal of $349. Pay once or in three easy installments and enjoy it forever and you'd be amazed at how many of our customers host one paid workshop or sell one e-book and boom, they've made their investment back hit pause Right now, head to Milo Tree.
Jillian Leslie (00:01:13) – We offer a 30 day no questions asked money back guarantee so there is no risk If you purchase by the end of September, I will give you a customized product action plan will get on a short call. I'll hear all about your business and then I will deliver you a step by step plan of how to create your first three digital products. I usually charge an additional $250 for this, but you get yours free until the end of September. So head to military.com to sign up.
Announcer (00:01:48) – Welcome to the Blogger Genius podcast brought to you by Milo Tree. Here's your host, Jillian Leslie.
Jillian Leslie (00:01:56) – Hello, friends. It's Jillian. Welcome back to the show. Today I am sharing part three in my series on selling. I explored why selling is so awkward and weird and why you are not alone if you feel that way. Part two I shared the best places you should be selling, including things like to your email list, to your personal network, reaching out to your biggest fans. So to listen to those, those will be linked in the show notes, but definitely check them out.
Tips on the Psychology of Selling
Jillian Leslie (00:02:33) – I think there is a lot of value there today. For Part Three, I'm diving into the psychology of selling. This is definitely a jam packed episode, so grab your notebook.
Tip 1: Sell the Benefits of Your Product, Not the Features
The first strategy I want to share where we're using psychology is this idea that when you are selling anything, sell the results and solutions, the transformation, the feelings rather than just the products or the features. So let's say you're offering a meal planning subscription service. So instead of saying it includes three meals a day with detailed recipes, which is what you're getting, talk about how it might save somebody four hours of meal prep a week, eliminate the stress, those kinds of things.
Frame it in a way that it doesn't just provide meals, it provides more time for yourself or your family, less mental load. It is about storytelling, painting the picture of this more relaxed life so that your meal plan leads to happiness, to health, to good feelings. And that's what people buy. So remember, people don't buy your products.
Jillian Leslie (00:03:51) – They buy a better version of themselves. I want to share how I'm using these strategies with my lottery card. So, for example, if you go to our homepage at Milo ree, you will see that our first header says: "Unlock endless earnings, sell digital products hassle free."
I want to paint the picture in your mind that if you use MiloTreeCart, you will end up with endless earnings and it will all be hassle free. I'm not selling the features. Later I say you can sell unlimited memberships, digital downloads, workshops, coaching, all of that. But at the end of the day, I want you to associate MiloTreeCart with a better, happier, richer you, hassle free.
Tip 2: Get Into Your Customer's World
The second psychological strategy is getting into your customer's world, getting into their head, using their language. So don't just discuss your product. Talk about what your potential customer cares about. If you can connect their problems or fears to your solution, you're more likely to get an immediate yes. If it sounds like something they're thinking, they will say yes.
Jillian Leslie (00:05:12) – The goal is to show them you understand you've got the remedy. Your product becomes a no brainer. So again, looking at our sales page, I use the term "Hate technology?" and I got that directly from you. I have been getting on calls, as I've said, with over 100 of you. I cannot tell you how many people say I hate technology and that is why you will see it right toward the top of our page.
I was just looking at this new AI tool. I was reading their homepage and I thought to myself, Oh my God, they're just talking to each other. They're using terminology that I don't understand. And if they want my business, they are not speaking my language.
And once you notice this, you will see it everywhere. So make sure that the way you're describing your customer's problem that you are solving is the same way that they describe it. And the way you figured this out is by talking to them.
Tip 3: Tap into Your Customers' Emotions
My third psychological strategy is to think about emotions.
Jillian Leslie (00:06:13) – First. We buy things because of our emotions, how we feel about it, and then we justify it later with logic. So like a feature again, this is about not talking just about the features, but like let's say there are some supplement and it'll say like, Oh my God, you get 30 vitamins and minerals where you want to focus is this idea that if you take this, you will feel energetic or more youthful.
Again, for MiloTreeCart, what we did and we did this very consciously is when you are in your dashboard deciding what kind of product you want to create. We have tons of white space. We have big buttons that say, What do you want to create? And they'll be buttons that say workshop or digital download or membership or coaching because we want it to feel good. We want it to feel effortless, hassle free, easy. All of those words. We're trying to translate those into the experience that we are promising.
Tip 4: Get Specific in Your Descriptions
Psychological strategy. Number four, move away from ambiguity into specific.
Jillian Leslie (00:07:24) – So let's say you help people with time management instead of saying, great, like this is a time management solution. You say save five hours every week with these systems that I will help you set up. When your promises are concrete, your potential customers can better visualize the value you're offering.
So specificity breeds credibility and that, my friends, can make all the difference. On our homepage, we say, "Set up and sell your products in under ten minutes." So instead of saying, "Hey, get selling quickly," we say in under ten minutes. It could be in the time it takes you to make a cup of coffee. Anything specific? That again, is storytelling and relates to people's own experiences, their own lives.
Tip 5: Lean Into FOMO – Fear of Missing Out on Your Offer
Tip number five. Lean into FOMO, Fear of missing out. That sense that something is going to go away can be a powerful motivator. This is why people offer open and closed carts, because it gets people to take action. So you want to create the sense of urgency. It just will increase your conversion rate.
Jillian Leslie (00:08:35) – So for example, for MiloTreeCart, today in this podcast episode, I said, Hey, if you purchase MiloTreeCart by the end of September, I am going to give you a personalized action plan.
But that's going to go away. So hopefully it inspires some of you to go. I want that personalized action plan I am going to purchase now. Other strategies to get people to take action, things like showing social proof.
Other people just like them have had success. If you look at our home page, we have a lot of social proof all over the place. You can use things like a countdown timer. You can highlight things like limited availability and use urgent language like "Last Chance Offer."
For us, we are offering MiloTreeCart at our lifetime deal $349 to our first 1,000 customers. And once we hit that, that deal goes away. I'm doing two things in that moment. I'm selling exclusivity, be one of our founding customers that we will treat like VIPs, and buy now because at a certain point the lifetime offer goes away and we're just a monthly subscription.
Tip 6: Offer Bonuses Not Discounts
Jillian Leslie (00:09:44) – And here is my last psychological tip. Just as a mindset, think about bonuses versus discounts. Please try not to offer discounts, try to offer bonuses. You might think that slashing the price of your product or service is a way to entice buyers, but it can devalue your product. In fact, I know I have been trained to wait for things to go on sale. I wait for the email to show up at like my favorite online stores. So bonuses add value to without undermining your pricing integrity. So imagine you're offering a coaching service. So instead of cutting the price, offer an extra session or perhaps a free e-book, it not only enriches your offer, but it also leaves a lasting impression of generosity and abundance. One of my favorite words This can often be a tipping point for a hesitant buyer. It makes them feel like they're getting more bang for their buck. It is why I am offering a personalized action plan which gives you your first three digital products and the steps to create them. And this is a service I have sold to previous customers.
Jillian Leslie (00:11:00) – I like to create the action plans and I love when our customers have success. So it is a win win. So if I can offer something like this and give value, I never have to discount our product. So there you have it.
Six Powerful Psychological Strategies for Selling Better
Six Powerful Psychological Strategies to not just sell, but to create connections, solve problems, offer real life changing benefits. So selling doesn't have to be uncomfortable. If you're feeling uncomfortable, go listen to part one in my series. It can really be a way of providing value in people's lives. So to recap, here are the six psychological strategies I recommend you start implementing. One. Don't sell the product, sell the results, the transformation and the solution to get into their world. Use their language and terminology. Three Use emotions. We are emotional creatures. We aren't as rational as you think. Four Be specific. Can you put an actual number to something or tie it to some sort of actual experience? Five Use FOMO whenever you can. People do not like to miss.
Jillian Leslie (00:12:16) – Out and six try bonuses over discounts. It's a great way to never cheapen your brand or your products and it provides surprise and delight with your customers.
Final Episode in My Selling Series
Next week is part four in my series on selling, where I am going to be talking about the importance of a customer journey and how to map out yours.
As you know, I love talking to you. If you are interested in exploring digital products and you want to get on a call with me, just go to MiloTreeCart/meet. You can pick a time and I would love to meet you. You want to jump in to selling digital products? Just head to MiloTreeCart.
We offer a 30 day no questions asked money back guarantee. I only want you to keep it, if you love it. You get to be one of our VIP founding members and you get your personalized action plan. Reach out to jillian@milotree.com with any questions, comments, suggestions you have.
And please share this episode with anyone you think needs some selling tips. I will see you here again next week.