We did it! We finally reached 1 million followers on our Catch My Party Pinterest page! And because of our large follower count, Pinterest sends millions of pageviews a month to Catch My Party!
People always ask me what our secret is for getting tons of new followers every day on Pinterest.
And I always say the tool we used to get 1 million followers on Pinterest is MiloTree!
What is MiloTree?
It's the pop-up app we built. You install it on your blog (with a WordPress plugin or one line of code), and it slides in and asks your visitors to follow you on Pinterest. And it works, as you can see!
Your MiloTree Pinterest pop-up is automatically populated with your 8 most recent pins and has a big "Follow on Pinterest" button instructing your visitors to follow you. And guess what? If they like your content, they follow you!! It's that simple!
The science behind why MiloTree explodes your traffic…
Professional bloggers like Plain Chicken and Simply Recipes know there is a direct link between number of high-quality followers and traffic.
When you pin something, Pinterest shows that pin to your followers first.
If your followers like it, Pinterest shows it to a wider and wider audience, and your traffic EXPLODES!
Because MiloTree converts your blog visitors into followers, these are the highest-quality followers you can get (because they already love you) and will like and pin your content! 
Want to see MiloTree in action?
Head to our sister site, Catch My Party and you'll see our MiloTree Pinterest pop-up pop. Here's an example of what our MiloTree Pinterest pop-up looks like.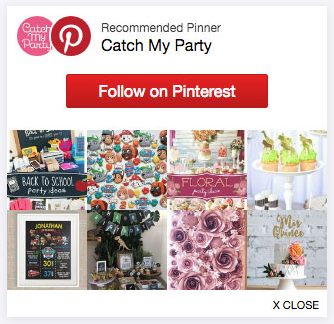 We, Jillian and David, founders of MiloTree, initially built MiloTree for Catch My Party (our first baby), and because we have over 1 million followers, Pinterest sends us millions of pageviews per month.
Listen to what other professional bloggers say about MiloTree
"With the help of MiloTree, my Pinterest following has increased by over 2,000 followers in less than a month!!"  — Whitney Cornelison from Beauty in the Mess.
Less than 2 years ago I started my blog, Swaddles n' Bottles. It has since grown to having 6.6 million pageviews. I know a HUGE reason this has happened is because my readers have followed me on Pinterest when visiting my site and seeing my MiloTree Pinterest pop-up. Milo Tree is just such a great tool! — Caroline Simmons Swaddles N' Bottles
If traffic is important to you, join the thousands of other professional bloggers using MiloTree!
Sign up for an account on MiloTree and get your first 30 days FREE! And it's only $9/month after that.
(MiloTree also offers pop-ups for Instagram, Facebook, YouTube, and your email list and you can get them all in your one subscription.)