In this solo episode, I discusses the impact of AI on businesses, particularly bloggers, and how to adapt to the changing landscape.
I emphasize the importance of "realness" in the age of AI and advise bloggers to focus on micro-niches and building a closer relationship with their audience.
I share what the the top three most lucrative digital products are for bloggers and creators: memberships, coaching, and live paid workshops.
In the world of AI, the job of the creator now is to stand out as an authentic authority. My recommendation is to start adding an element of live or real to your products to show up for your audience in a new way.
Listen to the episode to hear all my tips, including my best AI prompts.
Show Notes:
Subscribe to the Blogger Genius Podcast:
Intro (00:00:04) – Welcome to the Blogger Genius Podcast, brought to you by MiloTree. Here's your host, Jillian Leslie.
Jillian Leslie (00:00:11) – Hello my friends. Welcome back to the Blogger Genius Podcast. I'm your host, Jillian Leslie. I'm a serial entrepreneur. We started with Catch My Party and now we've rolled out MiloTreeCart, which I'll be talking about later in this episode.
What I wanted to say is I'm doing another solo episode because it's a holiday week and many of you are on spring break and I can't stop thinking about AI and how this is impacting and will continue to impact our businesses, especially as bloggers, especially as people building businesses online.
I wanted to share what I'm learning. I'm starting to interview some SEO experts for the podcast. Those episodes will be coming up. But in the meantime, I wanted to share my thoughts that hopefully will be helpful for you as you think about what business building might look like going forward.
First thing I want to say is I have really been leaning into ChatGPT. In fact, I now have a paid account so that I have access to GPT-4, which is the most current AI. And I use it every day multiple times. 
How to Use ChatGPT as a Blogger
I use it for everything from keyword research to outlining blog posts, to helping me write these blog posts, to writing emails for me and also business strategy.
I'll ask you questions about other markets we could target, let's say for MiloTreeCart. And it is like having an assistant sitting right next to me. I don't know if you saw this, but Google just came out and said, hey, we are okay with people using AI to create content as long as that content is helpful.
And by the way, that is a big shift because initially Google was saying, no, no, no, no AI content that doesn't feel authentic and notice that they're switching their position, especially because they too are going to be leaning into AI.
The question I keep getting asked is, does this mean that blogging is going to die if ultimately people can just type their questions into a chat box and get an answer? And I like to say nobody knows anything, however, I don't think so. I do think there's going to be a shift.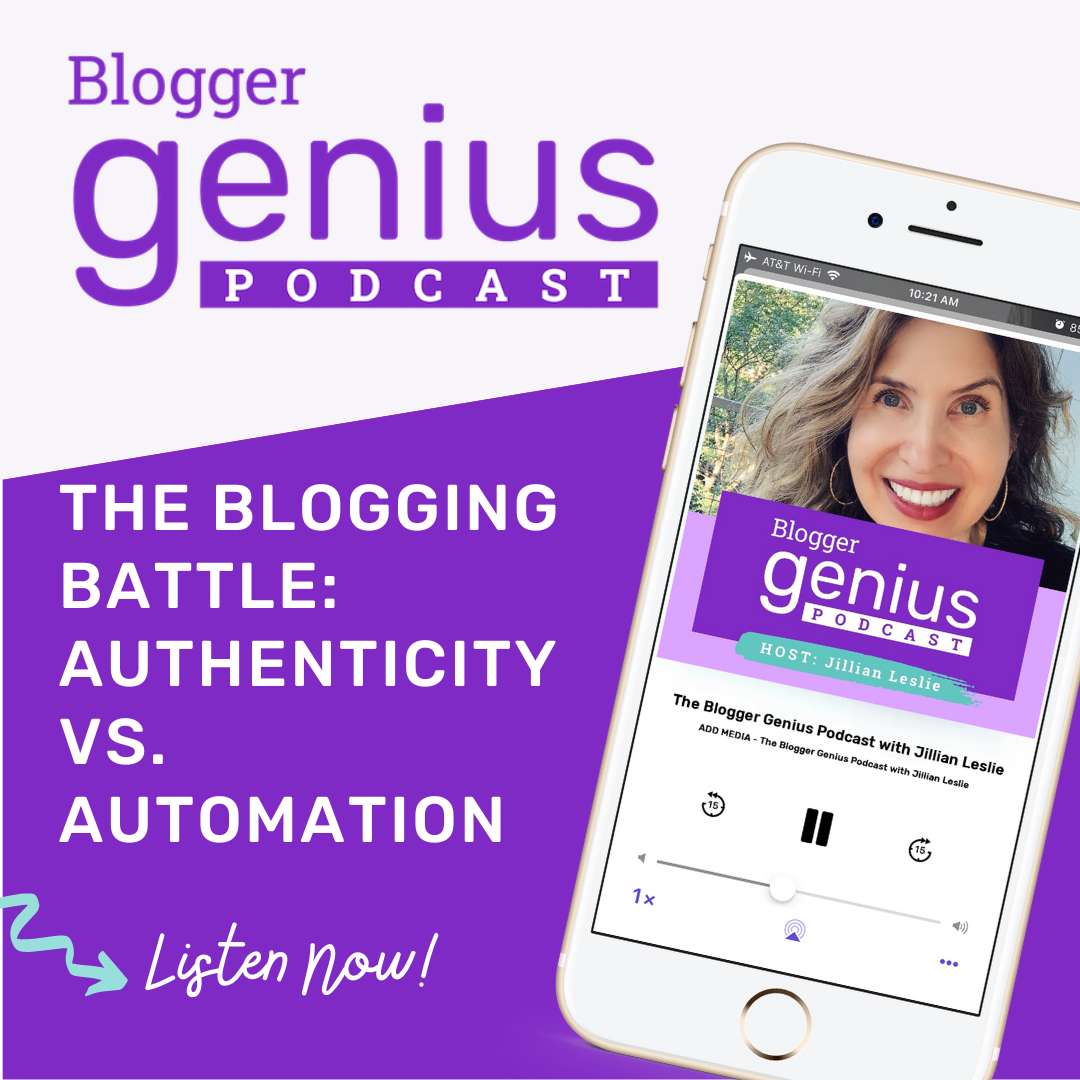 Lean into Authenticity as a Blogger
And that's what I wanted to talk about because if you can lean into this shift and get in front of it, you can have tremendous success. What is this shift? It's a shift toward real. I just didn't experiment. I went to Bing because Bing has incorporated AI into their search.
And I did just a search of what's the difference between pickles and relish? And then what showed up was on the right hand side, the answer to this question in the AI chat box on the left hand side, I got a bunch of links and I really didn't care about those links because it's like I just want the answer which I got.
And then as I clicked into the AI chat box, it started asking me additional follow up questions. Ultimately where it led me though, which is super interesting to videos of people making pickles and relish, these were food bloggers, real people, and I think that's the operative word, real.
I believe as we start moving into this world of AI where we don't know what is real and what isn't showing up with humans is going to be even more valuable. When you think about your blog, here are a couple things to keep in mind.
I've shared this before and I believe it now even more strongly that the riches are in the niches. And I'm going to change that to say the riches are in the micro-niches. The more you can hone in on one specific type of person or solution, the easier it is to become an authority.
And that's what you as a real person want to build. So, it is important for you to start to put yourself out there, not just hiding behind your blog, I'm talking to you food bloggers because I know that many of you like to hide behind your content.
Know it's you putting yourself front and center out on at least one social media platform or work to build your email list. Somewhere where people get to know you, get to like you and get to trust you. 
Get People on Your List to Grow Your Blog
This is why, again, email is very important because I believe email is you. You can build a closer relationship with your audience through email than social media. They can find you through social media, but you really want to get them on your list.
There's been this trend in blogging to go look for the low competition keywords and write small posts that answer individual questions and then link those answers into your content.
If it's an answer to an easy question that can easily be answered with AI, I think those blog posts will become less valuable. What will become more valuable is a blog post about how to paint your fence with photos and videos of you painting your fence.
Because I can look, I can type into ChatGPT tips on painting my fence, but if you've got a step- by-step that is real, that is going to speak to me much more than just some instructions. So, this is why you've got to do the thing you write about.
If you are a travel blogger, then I recommend going places rather than sitting at home doing research on the internet. All of this stuff is going to become even more important like originality, having a way in which you talk to your audience, a certain kind of style.
My recommendation is to lean into it and to really hone in on what you're good at, what you're an expert at, and put that out and present yourself as an expert because no AI can compete with that.
They can compete with well-written blog posts that answer simple questions, but they can't compete with you. 
How Will Blog Traffic be Affected by AI?
When it comes to monetizing, people ask me, "Oh no, is traffic going to decrease to my blog if I'm competing with ChatGPT?" Nobody knows the answer to this.
I might argue that traffic might drop a little bit, especially if the content you're creating can be easily answered with an AI. Then I think I'd be moving away from that content to more personal content to more original content to keep yourself competitive.
Who knows what's going to happen with ad dollars? There could be better targeting for ads on your blog and maybe you'll make more money, maybe you'll make less money. It's really unclear how that is going to shape out.
However, my recommendation is if you have an audience, even a small audience, but they are an engaged audience, I recommend you think about how you can serve them by showing up as you selling products and services. 
How Can Bloggers Compete Against AI?
So for example, this is where I'm going to talk about MiloTreeCart and why I think this is so useful for you right now. For those of you who don't know, MiloTree Cart is the perfect payment tool for creators who hate technology.
With MiloTree Cart, you can sell digital downloads, you could sell paid workshops, memberships, subscriptions, mini courses, coaching and we handle the payments and the dashboard of your customers or of your members.
We deliver your digital downloads, we give you unlimited fill in the blank sales pages so you can start selling in about 10 minutes.
We pride ourselves on being so simple to use and we've got your back and we are built for non-techies. So how does this fit into where we are right now? One thing people like to start with is an ebook, let's say, because you can create it relatively quickly.
And in fact, I just wrote an ebook using ChatGPT on how to use ChatGPT to write your ebook. And you can get that for free right now by going to milotree.com/aiebook.
The thing is that when you are writing your ebook, it's not just about writing the best ebook, it's adding your own personality into the ebook as well. Whether that be your photos, a video of you, you've got to add the specialness so that I want to buy from you.
What Digital Products Are Bloggers Having the Most Success Selling NOW?
When I'm looking at who is having the most success and making the most money right now using MiloTeeCart to sell their digital products, what I am noticing, and this is really interesting, people who are making the most money because it's recurring revenue, and I'm talking thousands of dollars a month, are people who are selling memberships.
They're showing up live with people, doing things like painting, talking about marketing, talking about weight loss.
The number two most lucrative product is people selling coaching. And we're seeing it for a whole host of prices anywhere from $60 all the way up to $500 for a session. Most are coming in around $100, $150. 
But if you have some expertise where you can solve problems for people, you can make money selling coaching sessions. And again, you don't have to have a PhD, you just need to be a couple of steps ahead of where your audience is and you need to be kind and empathetic.
And the third place where people are making a lot of money is live paid workshops where somebody shows up for an hour, teaches something, and then people engage. And afterwards that person tends to sell the recording even as a mini-course. So, they've got two revenue streams from the same product. 
And what people are discovering is that workshops are a great way to test memberships. What's so interesting about what I'm sharing is the top three products are all about people showing up real with other people.
And if you're going to create any sort of digital download, put yourself and your personality in it. So, when you're thinking about monetizing your business going forward, I'd focus on where AI can't compete with you. 
ChatGPT Prompt for Product Ideas People Will Want to Buy
My recommendation is to open up ChatGPT and type in this prompt, "Create 15 digital product ideas in my niche," and then say what your niche is.
And then write:
"It should apply to one of these six topics, makes my customer money, saves my customer money, saves my customer time, moves my customer toward happiness, moves my customer away from pain or raises my customer's social standing."
See what you get back and start ideating on what ChatGPT comes up with. These are the kinds of products people will pay for. Think about how you can add an element of live or real video or some way that you can show up for your people as you again lean into you and you will have success. Then go to milotreecart.com and sign up, get your account, and start selling.
And one last thing before I go. I've been really active in my Facebook group talking about all of this stuff and people are really engaged. So, if you want to join that conversation, please join my Facebook group. Just go to Facebook and type in, "Become a Blogger Genius." Super easy to remember, "Become a Blogger Genius."
If you have any questions about anything, email me at jillian@milotree.com, message me on Facebook or DM me on Instagram @milotree, and I will see you here again next week.
Other Blogger Genius Podcast Episodes You'll Like:
Imagine a World Where You Could Sell Digital Products and Tap into a New Income Stream with Ease…
If you are interested in selling paid workshops, digital downloads, memberships, subscriptions, or coaching in under 10 minutes, get MiloTreeCart at our lifetime launch price of $349. Just a one-time payment.
MiloTreeCart is built for non-techies. No coding, design, or website needed. If you're a female creator, this is for you!
You get fill-in-the-blank sales pages, checkout pages, and payment collection, plus, a dashboard to manage your sales. Also, MiloTreeCart integrates with all major email service providers.
And of course, there's a 30-day no questions asked money back guarantee. We're only happy when you are!
Find out more about MiloTreeCart here!