Today we're diving into the world of Pinterest as I bring back my friend, Kate Ahl, the quintessential Pinterest expert. In this episode, she updates us on all the changes we should be seeing on Pinterest in 2023.
From the pandemic boom (when everyone and their mother started a food blog), to the recent CEO change and rising stock price, Kate shares her thoughts on how Pinterest is positioning itself within the social media landscape.
In this episode, we talk about:
The end of the Pinterest Creator Rewards Program and what that means for bloggers
Why Pinterest is the library and Instagram is the bar
What it means now that Pinterest is leaning into ecommerce
Where the opportunities are for bloggers (and yes, they're still there!)
Why it could take six to eight months to see traffic from Pinterest
Why consistency is key to growth
And so much more!
If you want the most up-to-date information on the platform many of us rely on, but don't quite understand, definitely listen to this episode.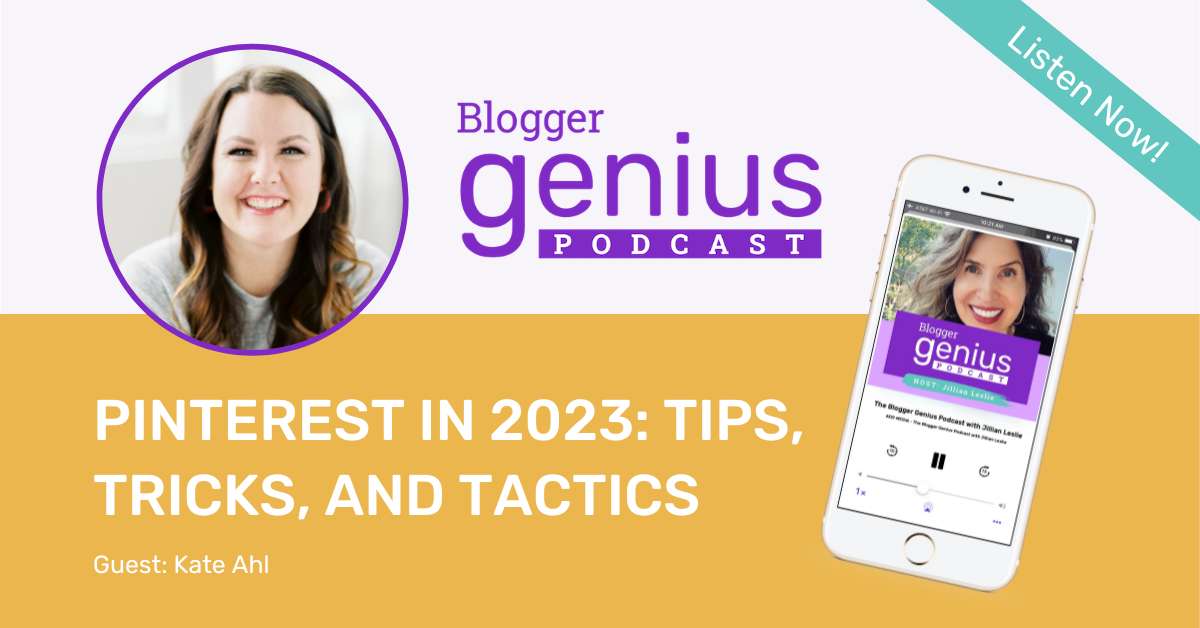 Show Notes:
Some links may be affiliate links. I might make a small fee if you purchase at no cost to you.
Subscribe to the Blogger Genius Podcast:
Intro 0:04
Welcome to the Blogger Genius Podcast brought to you by MiloTree. Here's your host, Jillian Leslie.
Jillian Leslie 0:11
Hello, my friends. Welcome back to the Blogger Genius Podcast. I'm your host, Jillian Leslie, I am a blogger, and a serial entrepreneur. So, I build businesses, my husband, David, we started in 2009 with Catch My Party, which is still growing and going strong. If you need party ideas head over there.
Jillian Leslie 0:31
Then in 2016, we built our MiloTree pop-up app that so many of you use to grow your social media followers and email subscribers, and it won't slow your site down. And it works great on mobile.
Jillian Leslie 0:44
And now we've launched MiloTreeCart, the easiest way for you bloggers to sell digital products like digital downloads, and workshops and memberships and coaching and courses and all that stuff to your audience. And why it's different, is we built it for non techies and beginners.
Jillian Leslie 1:07
You don't have to know anything to set up a digital product in 10 minutes with a complete optimized sales page. If that's interesting to you go check it out at milotreecart.com. But if you're saying, people keep telling me, I should start with a digital product, but I don't know where. No problem, I've got a quiz for you.
Find Out What Digital Product to Create First
Jillian Leslie 1:29
It's fun based on your personality, go to milotree.com/quiz. And it will tell you where to start. Plus, it's got some other great resources. Again, go to milotree.com/quiz. And I've gotten such great feedback on it.
Jillian Leslie 1:47
I am excited for today's episode, because I have my very good friend Kate Ahl back on the podcast to talk about one of our favorite topics, Pinterest, I always love having her on the show because she just gets me up to speed. And I bet you want to get up to speed since it's beginning of 2023.
Jillian Leslie 2:08
And Pinterest has gone through lots of changes through the pandemic. And where is it now? Is it worth investing in? These are the questions that I get to ask Kate and I think you will be super interested in what she has to say. So, without further delay, here is my interview with my friend Kate Ahl.
Jillian Leslie 2:27
Kate, welcome back to the Blogger Genius Podcast.
Kate Ahl 2:34
Thanks so much for having me here again. I'm so excited to chat with you.
Jillian Leslie 2:38
I was just saying that I need to do this not just for the audience's sake, but for my own sake, because I feel like I always have to check in with you because you are my quintessential Pinterest expert.
Kate Ahl 2:51
I'm happy to do that for you. I definitely spend all of my days thinking about Pinterest.
What's Happened on Pinterest in the Last Three Years?
Jillian Leslie 2:56
Pinterest, as I've seen in my news feed has been going through a lot of changes during the pandemic. And I know their CEO stepped down. I know they're thinking about creators in new ways. So, could you just catch us up to where we are today with Pinterest and where people can use it effectively in their businesses.
Kate Ahl 3:25
There's been so much so if we kind of level set with 2020 pandemic starts, Pinterest gets this huge boom, they double in users, they just have this amazing surge. And then as the world starts to open again, you see this loss of users this settling start to happen, people using it less.
Kate Ahl 3:43
I imagine people were opening it to figure out how to make sourdough bread or whatever it is. Then you go into this time where Pinterest says, okay, we want to capture short form video. They introduce Idea Pins. They really tried to rally this thing of keeping people on the platform longer.
How Pinterest Has Leaned into Ecommerce
Kate Ahl 4:01
Right about the same time they also introduced the Verified Merchant Program, which helps eCommerce sellers. So, they know a few things at this point one, people don't stick around on the platform, but two, Pinterest is a great informer of future purchases.
Kate Ahl 4:15
So, how can they pull those things closer in. And so, they get the buyer quicker. And they keep the people longer.
Jillian Leslie 4:22
For example, we just did our kitchen. Let's say would it be I want ideas for kitchen sinks?
Kate Ahl 4:34
Correct. Exactly. But you are planning it three to six months before you actually buy the kitchen sink and you're most likely pinning at least 10 to 20 of them because you want to visualize them. You want to see where they're at in a kitchen. You want to see them up close.
Kate Ahl 4:50
And so, people are definitely backing up saying this is what I want, but then purchasing later. I don't necessarily know if that will change because I think where that brings us a little bit up to today is Pinterest has figured out who they are and how they're uniquely positioned within the social media ecosystem. So, they are different than Instagram.
Kate Ahl 5:14
Obviously, we know that. The saying I have lately as Pinterest is the library, Instagram is the bar. You have to see them in those two different ways because people are searching they're investigating. And this has led us to the realization what we've had lately is that Pinterest said with advertising.
Kate Ahl 5:34
They're like, "We want to keep people here longer. Because we want to attract big brands to put their advertising dollars here." But one of the things that Pinterest has always said is that 97% of searches are unbranded. Brands don't want to hear that they want to hear I want to be followed. I want to get impressions. I want to be seen. I want to be known.
Kate Ahl 5:53
So, there's this opportunity for smaller businesses to use Pinterest in a way. But I think Pinterest hasn't recognized that. I think they are starting to with the change of the CEO that you brought up. So, in June of 2022, Bill Ready took over as CEO. Ben Silverman stepped down, he is still the head of the board over there.
Kate Ahl 6:16
Bill used to be in charge of Google eCommerce. He was a part of Venmo and PayPal. And at the same time, Julie Bornstein stepped up as Chief Shopping Officer. And she used to work at Stitch Fix, and even created her own company that was very much built on people's recommendations and getting indicators of what they liked and didn't like.
Kate Ahl 6:36
So, it's like you have this high mountain peak in 2020 lowering down in 2021 and Pinterest going, okay, we've got to switch gears. And we've really got to lean into these things. So, let's make some strategic changes.
Kate Ahl 6:50
And one of the things we've seen in the back half of 2022 is Pinterest stock is a reflection I think of where investors feel most comfortable with the company or where they see it's potential. Its stock has risen about 35% and the back half of 2022 since the CEO took over.
The End of the Creator Rewards Program
Kate Ahl 7:10
So, I just think there are so many indicators that are leading us to say, okay, Pinterest is going to get better, I think in 2023. Also, I should mention, there are so many updates. So, if there's anything you want to stop me, let me know. With Idea Pins, they went down this road of the Creator Rewards Program.
Jillian Leslie 7:30
Can you explain what that was. That was for bloggers. Would you share what this was?
Kate Ahl 7:32
With that introduction of Idea Pins, what they realized is they had to get people to adopt to it not only the pinners, but the creators themselves.
Jillian Leslie 7:46
Just for anybody who doesn't know, Idea Pins, how would you describe an Idea Pin?
Kate Ahl 7:53
Idea Pin is the hybrid between an Instagram story a TikTok and a reel, it's like it all had a baby.
Jillian Leslie 8:00
And sad pins too.
Kate Ahl 8:00
Exactly. It's like a slide story. So, think of it as less one TikTok or reel. But more you're taking multiple TikTok reels, putting them into a story. And you're saying like, here's how to make a Margarita, a fancy Margarita.
Jillian Leslie 8:19
A carousel.
Kate Ahl 8:22
Exactly. It's a hybrid, but it's very much centered around how to do something and less about your life. It's not the bar, it's the library, I want to pull out and look at four pages and see, oh, that's how I do something. But it didn't have a link.
Links are Coming to Idea Pins
Kate Ahl 8:44
Again, to try to keep people around longer we get it. But one of the pinners major frustrations with Pinterest is dead links. Things that don't go anywhere are so aggravating to them. So, they kind of pushed that aside and said, it's okay, we're going to monetize creators to create these Idea Pins through what we call a creative.
Jillian Leslie 9:09
Kind of like a win-win. Like okay, you want money as a blogger. We're not going to give you traffic to your blog so you can monetize that way. What we're going to do is pay you outright, we're going to say, hey, we need some Idea Pins about Margaritas. If you make one and you upload it and you get enough views, we'll pay it. Is that right?
Kate Ahl 9:30
Yes. Correct. It was very popular in the beginning, obviously, with any program. I think everybody needs to know this. Whether it's a social media platform that's new or a program, the beginning is always going to be the best and everybody is going to have stories. Totally.
Kate Ahl 9:48
They're going to be like, "It was amazing." It's always going to be amazing. And then it slowly starts to get less and less. So, come up to November of 2022, this year, Pinterest said we've had a year of create a rewards program, not even a year, maybe a year. We're just going to discontinue it. And we're going to give you links on Idea Pins.
Kate Ahl 10:12
And so, that will be rolled out in 2023. We still have Idea Pins, but now we have links.
Jillian Leslie 10:19
They're not live yet.
Kate Ahl 10:20
There are some accounts that have them. We knew they were testing it back in 2022, because we saw some of the newer accounts that would get on Pinterest had them already. So, we were definitely aware that they were going to be coming down the pipe.
Kate Ahl 10:34
I envision probably within late January, early February, it'll start to roll out to everybody. That's usually when things happen. And when it does, you're going to get some glitches on the platform, which is totally normal whenever Pinterest does this. Now is, where we are.
Jillian Leslie 10:52
As my Pinterest expert, what is your expert narrative or thought about the Creator fund going away? Did it piss off creators? Is this an ultimate net positive, or net negative?
Kate Ahl 11:07
I think net positive, but I tend to be glass half full. But I would say one, the creator rewards program had a lot of frustrations for people. Some people could participate. Some people couldn't. Some people were spending hours creating content, where they should have been creating content potentially on their own site.
Kate Ahl 11:26
You get this distraction. I think if I look long term at what I hope for creators, I think this particular thing going away is good. That's my belief.
Jillian Leslie 11:43
Pinterest really got its footing. I think with creators, food bloggers, for example, it was like that. It was like shoes and weddings. It was all of that stuff. But if you were just a blogger like us with Catch My Party, we still get a lot of traffic from Pinterest. But then what you're telling me is they're pivoting toward retail, toward eCommerce.
Jillian Leslie 12:08
And they're hiring people like the CEO who are all about eCommerce. They're trying to attract, say Home Depot, Macy's. However, I'm a food blogger or a DIY blogger or party blogger. You being the Pinterest knowledge bank, how do you parse that like, who is Pinterest for who's going to benefit?
Jillian Leslie 12:34
Is it still a play for bloggers for Etsy sellers for Home Depot, how are they thinking about it? And how are you thinking about it?
Pinterest Is Investing in Small Businesses
Kate Ahl 12:44
I would say I see them less caring about the Home Depot and Macy's and more merging towards like, we see partnerships with Shopify, we see partnerships with WooCommerce, we see them very much invested in a smaller seller.
Kate Ahl 12:58
I would say, given the background that he has in Google Commerce and Venmo, he is thinking a little bit more granular on those Etsy sellers on those people that are selling. Obviously, that's not been said, because he's not going to say I don't want you Home Depot, he's probably going to say I want all your money Home Depot.
Kate Ahl 13:19
I think there's a return to that a little bit and like a recalibration back to who they were. I think we saw a lot of loss of traffic in 2022. I did for me, my Pinterest traffic cut in half, but it's still my number one social traffic driver. I would take it 100 times out of 100 over what I get from Instagram or Facebook any day.
Kate Ahl 13:43
I wonder if it will increase with the Idea Pin links, we don't know if you're going to be able to edit them to go back to the old ones. But I think you will start to see that. I think the other thing is that Pinterest allows digital and physical products to be hosted. Whereas Facebook and Instagram don't allow digital.
Jillian Leslie 14:04
What does that mean? You can upload your product to Pinterest.
Kate Ahl 14:08
If I'm connected with my shop integration, which we have our shop now connected with Pinterest, you can see a little blue checkmark says verified merchant or you could upload your shop manually. This is only if you are self-hosted. This does not work if you're an Etsy seller or a TPT seller, you really have to have the checkout hosted on your site.
Kate Ahl 14:30
So, if you get your shop connected, then you have a PDF. I can upload that as a shop listing onto Pinterest and you can see that PDF. I can't do that with Instagram or a Facebook. And so, what I like about Pinterest eCommerce is it is friendly to both so if somebody has a meal plan, that's a PDF if somebody has a budgeting count, whatever it is.
Jillian Leslie 14:54
What is that link if I'm selling it on my website as a link? So, it's not in WooCommerce, or anything like that.
Kate Ahl 15:06
It doesn't have to be in WooCommerce or Shopify, checkout has to be on your site, checkout can't be on a third party. So, I can't connect my Etsy shop, if I don't have a website, to Pinterest. It's always just no third party, just self-hosted.
Kate Ahl 15:27
And then what's great about that is if I change my price, or update my listing, that's now automatically updated all throughout Pinterest, any pins that live out there for that PDF, or even that physical product, it's all updated, which was small sellers' frustration.
Kate Ahl 15:46
If I'm out of stock, and 100 people have pinned this pin, and they keep coming to my website and asking where it is, that shows poor customer service. And so, Pinterest said, Let's do a shop integration. So, that that is now solved for you.
Jillian Leslie 16:03
That's amazing. Can I as a DIY blogger, still get traffic to my blog with Static Pins with videos. Let's take eCommerce, let's take sales out of the picture. I want traffic, where do I get traffic?
Kate Ahl 16:26
If I am a content creator, and I'm starting just fresh, Pinterest is going to be my first choice. Because if I look at every single person's traffic that we look at, we've managed for hundreds of clients. And I look at that I say Pinterest and Google are number one and number two, sometimes number two, and number one, that's just how it is.
Jillian Leslie 16:47
I think it's the only platforms that drive traffic.
It Takes Six to Eight Months to See Traffic from Pinterest
Kate Ahl 16:53
I'll say the caveat to that is, and I was just talking with somebody about this this morning, it's going to take six to eight months of investment. But that's the same with YouTube. That's the same with Google. It is a fire that slowly builds once it gets to be a raging fire. It's great. But it is very hard.
Kate Ahl 17:12
And I understand this deeply, to invest in something that doesn't feel good, and that you don't know where it's going to go. It's like investing in retirement, it's like the first time you make your $500 contribution to your Roth IRA, you're like, how is this going to be the million dollars I need when I'm 70. But it's the slow investment and peace that you put into it.
Kate Ahl 17:35
In this conversation I was having this morning. She said, "I just wish I had a crystal ball to know if it was going to work." And I was like, listen, I feel the same way about YouTube. I look at it, and I go, I know all the benefits of investing there. I know what it looks like on the other side. But it feels really hard to climb the mountain.
Kate Ahl 18:00
And you just have to and I know Instagram feels really good to climb the mountain. But even I'm asking, my team is spending 10 hours on Instagram, versus three hours on Pinterest, my 10 hours of Instagram, I don't really know what it's yielding. There are these people who follow me and just follow along. I think it's time to interrogate those things.
Kate Ahl 18:23
And I get a lot of pushbacks from people who say, "My Pinterest traffic has dropped. I don't know if I'm getting anything from Pinterest. Pinterest feels so frustrating."
Kate Ahl 18:31
I understand it.
Jillian Leslie 18:48
I used this analogy. You and I were talking before I pressed record about women and how they are as business owners. I want to say Instagram is that really fun one night stand. And Pinterest is that boyfriend or husband who is going to show up for you who might not be as like fun when you're drunk.
Kate Ahl 19:13
Totally.
Jillian Leslie 19:13
Like bear goggles on, but is like reliable and he is going to pick up the kids on time. And at the end of the day, who do you want but I do feel like we as women want validation. So, if I'm getting likes and follows and it's immediate, I put it up and I can check it in an hour and see how well I did. I feel like it taps into this reptilian part of our brains.
Get More Pinterest Followers with the MiloTree Pop-Up App
Advertisement 19:46
I want to take a short break to say that if you are serious about growing your Pinterest followers, then I've got a tool that will help you. It is called MiloTree. It is our pop-up app that we developed, what it does is it lives on your blog, we've got a WordPress plugin, or you can install it with one line of code.
Advertisement 20:07
And it pops up when somebody comes to visit and says, "Follow me on Pinterest." Now we have optimized it like crazy. You can also use it to grow followers on TikTok, and Instagram and Facebook and YouTube and grow your email subscribers.
Advertisement 20:24
We have used it on Catch My Party for years. And now we have 1.6 million followers on Pinterest, we grew it with our pop-up. Do followers matter on Pinterest? Yes, they do. Because it is a signal a strong signal to the algorithm that your account matters.
Advertisement 20:46
We've optimized MiloTree for site speed it plays so well with Google, you can customize how it shows what size it is. And you can even add sparkles. To grab this, go to milotree.com sign up, get your first 30-days free. So, if you want to speed up your Pinterest traffic growth, it is so worth trying. And now back to the show.
Kate Ahl 21:16
A great book that I read last year was Content Inc., by Joe Pulizzi. I really love him. I actually speaking at his conference Creator Economy Expo in May. And I love the saying that he has, which is, "Don't build on rented land, you can leverage rented land, but build on your own land, because that's your thing and use those things to bring them into the ecosystem."
Kate Ahl 21:42
So, I'm interrogating that more and more. I want to say this to the knowledge people who are great on Instagram, and they do make a lot of money even on sponsored content or other things like that. I am a heavy Instagram user, I have a personal account that I spend most of my time on. Then we have a Simple Pin.
Kate Ahl 22:07
I pay attention to which ones pull me in, because it feels like they're really truly serving me versus the ones I'm following their life. And that's so different.
Jillian Leslie 22:21
Explain.
Kate Ahl 22:21
There's somebody I follow. I started lifting last year, my whole goal last year was to get strong. I was really trained to fill my feed with people who are lifting weights, counting macros. I started looking people who are going to support that goal, and one person has macro friendly meal plans. And I've used them all year, I love them.
Kate Ahl 22:44
As she was talking and she was growing, and I was watching these things happen, I was like, she's really just focused so much on her journey. And how that affects me, this meal will help you do this, this plan will help you do this. And I saw just less and less about her but more and more about me like, oh, this is here.
Kate Ahl 23:05
Whereas if I follow somebody that's more about their life, I'm just lurking.
Jillian Leslie 23:11
And probably feeling bad.
Kate Ahl 23:13
Yes. an element of that.
Jillian Leslie 23:15
Kind of like, "Oh, I wish I could be like you," and I don't see your less polished moments. I know that but I'm weirdly buying in as well.
Kate Ahl 23:26
Exactly. I've never bought anything from them. If I had to think about all the people I follow on Instagram maybe really, there's two that I've ever engaged with. And other people buy stuff on Instagram, that's great.
Use Pinterest to Bring People Into Your Blog
Kate Ahl 23:41
But I think the whole vein of it is have your main content be on your website. And then leverage the places that are going to bring people in. Pinterest is a place to leverage to bring people in.
Jillian Leslie 23:53
Yes.
Kate Ahl 23:53
It's going to take a while it's not going to feel good. I'm not going to tell you that it's going to feel great. But I'm going to tell you, you can take Static Pins. And now when Idea Pins change to links, you don't have another way to get it. So, it's like diversifying the type of format on Pinterest to tell a little bit of a different story to bring them in.
Kate Ahl 24:12
Video I think you'll just get absorbed into the Idea Pins and the regular standard pins. So, people we've been noodling on that a little bit lately. Like do we tell people to create video? You can. People did that because it linked but I actually think we'll see Idea Pins and video merge into one format. So obviously Pinterest ads.
Jillian Leslie 24:34
If I have a limited amount of time and I want the biggest bang for my buck, which is traffic and then maybe traffic with sales. I should be doing say Static Pins right now for the biggest bang for my buck. And I could get traffic for them but I need to do best practices, keywords and all of that stuff to optimize my pins.
Jillian Leslie 24:58
That's where I should be focusing until I can get links in my Idea Pins, and then even see if they are going to provide the traffic that I'm looking for.
Try This Pinterest Workflow
Kate Ahl 25:08
Yes, here's a workflow, I will sit in the shoes of somebody who is new and in this because I am in this. I have simple pin media nine years old, obviously that train is down the track and a well-oiled machine. So, if I was to speak from that perspective, that's really not fair.
Kate Ahl 25:24
I'll speak from the new website, I have kateahl.com. I've had it two years. And I've been slowly doing things on the side, it's hard to run two businesses fully transparent with that. But I started a podcast last year. And I said, here's what I'm going to do for my workflow.
Kate Ahl 25:39
I'm going to record a podcast, I'm going to create a blog post, I'm going to have a Pinterest image. And then I'm going to pin that to Pinterest after I have, obviously, my Pinterest profile setup. Doesn't have a lot of boards, because I know I'm going to build as I go.
Kate Ahl 25:55
So, my workflow is just that, record the podcast, take the notes, put it into the blog post, have an image, pin it. And then I sometimes I can't do more than that, because I just started the podcast last year. It's not like I have a lot to work with. So, if I pin once or twice a week, that's okay.
Kate Ahl 26:17
I've also had to take a little bit of a hiatus because my podcast is on seasons. So, sometimes I need to step back a little bit. But as I look at it from that new business, Pinterest, and then I do you care a little bit about Instagram over there, because I can see some agency owners, but those are really my heavy hitters is Pinterest first, Instagram second. Hopefully Google is first.
Jillian Leslie 26:41
Because it takes a while by the way.
Kate Ahl 26:42
It does. My content is solely in podcast. If I had to have like that foundational element. And I take probably a couple hours to fill out my content calendar. And then I figured out my recording. And then I use templates. I'm probably not the world's worst. But I'm terrible at Pinterest images. That's not my sweet spot.
Kate Ahl 27:09
So, if you give me a template, and I know my colors, and we have photos, I drag and drop everything over into my Pinterest images and call it good.
Jillian Leslie 27:18
What about the day when we were pinning, pinning, pinning, pinning, repinning, repinning using a scheduler? What are your thoughts about this? Do I need to be repinning, repinning, repinning? Do I need to have constant flow of new pins? Remember that one plus content?
Jillian Leslie 27:37
Do I need a scheduler? Is it better to use Pinterest as my scheduler? Is it quality over quantity? What is the whole thing there?
Consistency is the Most Important Thing on Pinterest
Kate Ahl 27:47
It definitely changed. Consistency is the most important thing. So, whether that's 10, 20 or 30, that's a variable based on how much content you have. Let me first address the scheduling tool. I know some people who use the native scheduler, some people who hate it, some people who love it.
Kate Ahl 28:03
Tailwind and Planoly have been the two that we've been using most lately, we find that most of our clients come with those two, that's great. Most of it is because you're also doing Instagram and you want something that complements your scheduling tool there. Choose a scheduling tool, because it makes you most productive. That's it.
Kate Ahl 28:20
I can't support 10 pins a day, even if somebody said it was getting them a million pageviews I can't do it. I don't have it, because it would flood my users and my page with the same content. So, for you, Catch My Party. You have years and years and years of content you could pin every day this week with something different every single day.
Jillian Leslie 28:44
We do. For MiloTreeCart and Blogger Genius we don't. So, I'm much more like you.
Kate Ahl 28:50
You can't. So, I would say the most important thing is that you're putting it out there. And then if you want to do another image, which people used to call fresh images that would go to older posts, what we saw with that strategy was that people went nuts.
Kate Ahl 29:05
And they created 10 to 20 images per blog post and they stopped creating new content, because they were burned out. I get it. There's no shame in that. But it took their traffic and just went straight down. Whereas people who continue to create content and maybe played around with a few new images saw an increase.
Kate Ahl 29:24
So, the new content we believe fuels that the most Pinterest is still a place that loves content. People still read articles and they start with a question. What answers questions? Content does. A product doesn't always answer questions, but people do look for those products too. So, I'm not taking that out of there.
Kate Ahl 29:44
But they're much more likely to read something and then engage with it. I was doing a search recently about how to make my living room more warm.
Kate Ahl 29:57
So, I searched it. And I got a lot of minimalist and Swedish and all of these other things, but it was able to search those things and get not only articles of inspiration, but also products. And so, your end user is doing the same thing.
Kate Ahl 30:17
Here's another interesting thing. As I searched, I saw similar things come up in searches, because Pinterest knew this person wrote an article 10 ways to add this element to your home. And Pinterest kept pulling that in, because it knew that it was valuable, and it was something I needed to read.
Kate Ahl 30:37
So, that being said, number of pins per day don't matter consistency does. If consistency for you is twice a week. That's okay, you're still investing in it. Don't use hashtags anymore. It's not even relevant on the platform. really stick with your keywords.
Jillian Leslie 30:54
Size for pins still, what would you say?
Kate Ahl 30:57
Two to three,
Jillian Leslie 30:58
Two to three? And putting in alt text. Is that important?
Kate Ahl 31:03
Yes, I think alt text they do a prompt for it. I can't remember if Tailwind has that or not. It's been a while since I've scheduled using that just because with Kate Ahl, it's once a week, I can just upload it manually. So, I'd have to look at that. But alt text I think generally on the whole of the internet is always important.
Kate Ahl 31:25
So, if you ever have the opportunity to put that in, it's very much for the way that the internet is going with possibility.
Jillian Leslie 31:32
All of those tools that Tailwind had rolled out to help people groups, I don't even know all the names.
Kate Ahl 31:39
Communities.
Are Tailwind Communities Useful?
Jillian Leslie 31:39
Communities and all of that stuff. Is that all kind of by the wayside?
Kate Ahl 31:44
We were talking about that the other day, actually, with our team. There are two use cases right now that we see. One is not at all, it doesn't even matter because people aren't pinning outside content. And the other use case is you join with people in your niche.
Kate Ahl 32:08
Even in the use case that we were looking at, it was one outside content piece per day. If we looked at the data, she was contributing one to the community and then pinning from. It still showed up as something that was driving traffic. But it was only one a day. It wasn't like hundreds. So, I think again, you have to go back to your data.
Kate Ahl 32:30
This is a big mistake people make is they're like, oh, Pinterest doesn't feel good. I don't feel like I'm getting anything. Well, look at your numbers. That's it.
Jillian Leslie 32:40
Interesting. Because as you know, with MiloTreeCart, which is our payment tool I am all about now creators creating products. So, we're all about selling digital products, and experimenting, and that Pinterest is a great place.
Jillian Leslie 32:58
And I love that you're saying that they potentially care less about the Home Depot's and care more about the individual creators and small business owners selling things.
Kate Ahl 33:10
Yes.
How Best to Use Ads on Pinterest
Jillian Leslie 33:10
Tell me then… ads. If you sell stuff on Pinterest, should you be running ads? Is it cost effective? How has their ad platform changed?
Kate Ahl 33:24
I think this is a big one to be thinking about. And I love that we take ads on every platform. And we put it into buckets that serve different things. I heard somebody even comparing Google ads to LinkedIn ads.
Kate Ahl 33:38
When it comes to Pinterest ads, it's very much like top of funnel, bottom of funnel, you can't really get that middle warm up piece there. It's either like I'm introducing you to the product, or you already know about it, and we're going to buy it.
Kate Ahl 33:53
So, when you look at it that way, and you decide what your conversions are going to be, you set yourself up to say like, I'm going to spend this much money, it's going to look different than Facebook. And it's a completely different beast.
Kate Ahl 34:05
And a lot of people compare Facebook to Pinterest ads and say I'm getting a better return on Facebook ads. Of course, it's a different platform, people work differently over there. I would say Pinterest ads are worth it. If you know exactly who you're targeting.
Kate Ahl 34:20
You are willing to give it six months, and you are okay testing and working on your funnel because a lot of people think I could throw ad dollars behind a broken funnel. It's not going to fix the funnel; you need to know I'm only going to work on Pinterest ads for top of funnel.
Jillian Leslie 34:38
Let's talk about just what that means.
Kate Ahl 34:41
New people.
Jillian Leslie 34:42
Your funnel is the journey your customer goes through to purchase and remember at the top of the funnel, it's much wider. Lots of people maybe know about you, but then a smaller number it's going to keep getting narrower and narrower and then people who purchase end up down through the funnel.
Jillian Leslie 34:43
So, top of funnel is people have to know about you.
Kate Ahl 35:03
Well, top of funnel is on Pinterest cold, they don't want know.
Jillian Leslie 35:07
Meaning, they don't know about you. The difference is they learn about you is really that's top of funnel. They don't know who you are. I don't know, but I'm looking for something and I go, oh, Kate Ahl is selling all these Pinterest tools, all these Pinterest horses and stuff. Oh, cool. But I didn't know who Kate Ahl was before I got Pinterest. That is top of funnel.
Jillian Leslie 35:09
Then you got to warm them up and be like, "Hey, I'm this person. And I really care about you. And I understand what you're trying to achieve. And hopefully I can help you do that." That's like warming them up.
Jillian Leslie 35:41
And then bottom of the funnel is are they purchasing or not? And you hope they purchase? You're saying Pinterest is good, it's top of funnel, bottom of funnel. Top of funnel, how do you recommend you advertise your product?
Kate Ahl 35:55
One of the ways that we do it right now, especially for Pinterest ads, which is interesting.
Jillian Leslie 36:13
That's so meta.
Kate Ahl 36:01
We love to do a lot of testing on it. So, we look at targeting people with, "Are you investing in Pinterest ads?" With that question. And then like, "Here's a checklist to get you started." It's that awareness piece of somebody's who's asking about Pinterest ads.
Kate Ahl 36:19
Let's take the example of we've worked with jewelers, we've worked with food. People at that top are looking for either new recipes, or maybe a new brand. My ads director tells the story about jeans. She was like I was first introduced to a pair of jeans on Pinterest when I was searching for wide leg jeans or something like that.
Kate Ahl 36:40
I came across an ad, I see the jeans. And maybe there's a great headline of the last jeans you'll ever need to buy or something like that. And now I go to their website and get to know them. I'm not quite ready to buy. But then maybe a couple weeks later, I see a sale offer on these particular jeans.
Jillian Leslie 37:00
It appears on their website like I've joined the email list. Where am I getting that second touch?
Kate Ahl 37:08
That second touch could be a retargeting ad, because now I know you visited and now I know you're aware. So, I can pitch you something. And you're not going where did this come from? Like I don't even know this business. Because they know, I visited the website.
Kate Ahl 37:26
So, let's say somebody comes to our website to learn about Pinterest ads, I can come back around and say, "Hey, did you want this checklist?" Or, "Do you want to go deeper with Pinterest ads?" It's not weird, but it makes a connection.
Kate Ahl 37:40
Whereas a lot of what we do organically is in the middle there and even a little bit top and middle. Because we don't know where we're entering into people's questions or journeys on Pinterest. And so, you have this opportunity to fill in the gaps here.
Kate Ahl 37:55
Another example would be one of our custom handmade tile companies. They know that people don't know how to pick out samples for tile.
Kate Ahl 38:05
They can run a Pinterest ad that says, "Here's your guide to picking out tile." That's it. And then they go, "Oh, here's Julep Tile. This is so amazing. I didn't even know this company existed; I'm going to sign up for their email list."
Kate Ahl 38:20
So, now the ad is run to that conversion of just getting them on their list. Because she knows she's not going to sell a $3,000 order off of Pinterest. She's not even going to do that bottom of the funnel. And she's just going to do the top. Now she wants to get them on the phone.
Jillian Leslie 38:37
You are saying though it is good for that final purchase.
Kate Ahl 38:41
Yes, it can be good for that final purchase too. Especially if people have seen, like a retargeting. Because then it shows up in the feed in a new way. And the great thing about Pinterest ads, I even get tricked. I don't know that they're ads sometimes because people don't read. They're only looking at the image.
Kate Ahl 39:00
And that's why if you want to be really good at Pinterest, you can write the best description on the planet. But if that image doesn't connect with me, I'm not clicking on it. Or if it doesn't serve what it is, I want to know. So, you have to get creative with your buzzwords that you put on that or what's included in those images.
Kate Ahl 39:21
Because people just scroll right on by. And that's how I think Pinterest ads get folded into the regular pins of the feed. And when I click, I'm like, "Oh, that was an ad?" Because I'm scrolling through so fast. I didn't see it.
Jillian Leslie 39:36
If it provides value, then you're not going, "Oh, they tricked me." You're like, "Oh, yes. This is good." You're saying from what I got here, especially if you wanted to say grow your email list. By the way to get sales for your products Pinterest is a really good place to be.
Kate Ahl 40:02
Absolutely. Pinterest ads, we have a membership, the Simple Pin Ads Society, when it comes to ads, you have to have a learning time to set up. The ad itself needs about two to four weeks to warm up the pixel that's different than any other types. And then you do changes and tweaks and all those kinds of things.
Kate Ahl 40:25
And a lot of people have run their ads for a very long time. Because once it gets going again, same idea, it really starts to work.
Jillian Leslie 40:35
As we're closing, I want to get your overall thoughts. Are you bullish now about Pinterest?
Being Bullish on Pinterest in 2023
Kate Ahl 40:44
I would say probably more so than I have been in the past. And I think that's a little bit maybe like, personality wise. I've been afraid for people to be annoyed with me that I'm so pro Pinterest, that I've kind of pulled back on it a little bit.
Kate Ahl 41:01
I think as I look at the landscape, and I look at the data, and I look at what works for me, I'm like, why wouldn't you? Why wouldn't you use it? You can choose to or not. And I've seen a lot of people say I don't want to use Pinterest because of Idea pins.
Kate Ahl 41:16
Yet at the same time, people will jump through hoops on Instagram every other week to do what Instagram wants to do. I don't understand that. But I also understand if you're somebody who you get all your money on Instagram through sponsored content, I get it. I get that that is a grind.
Jillian Leslie 41:34
Just yesterday I read an article from the information.com. It's about creators, and they were doing their predictions. And they were saying assume creator funds are going to dry up. Assume sponsored content is going to become more specific. Brands want more and more.
Jillian Leslie 41:56
So. just know that when you are building your business on social media, it is shifting sands, you're saying create content on your own platform. I'm saying create products that you can sell it, own that relationship with your customer. Dig in there and check, please.
Jillian Leslie 42:17
I think it'd be my theme. Maybe for 2023. Check your reptilian brain. Like no, honestly, is it that Instagram is feeding someplace in you. And not that's not good or feel good. But know what that is. And then look at your data to know, is this just giving me dopamine hits, but it's not necessarily feeding my business. These are two very different things.
Kate Ahl 42:50
Yes. And I think there is an element too, I heard this said recently, when we were talking about a book for Pinterest. And somebody said, there's just not enough buzz around Pinterest. And I get it but I also think this too. I don't know if TikTok is going to be around the whole year in the US. I don't think it is.
Jillian Leslie 43:09
I don't think either.
Kate Ahl 43:09
I see a lot of creators building on rented land over there. And I think this is your signpost, switch gears. TikTok and Pinterest are very similar. I learned it on TikTok, I found it on Pinterest, move some of that stuff over there. And it drives traffic. So, there's that there.
Kate Ahl 43:34
I also think Pinterest is a slower moving platform. I don't know if that will change with the introduction of a new CEO. I think the way in which the company grew was very much based on a quieter CEO, you hear Mark Zuckerberg and you see the guy with Instagram, you see these people out there.
Kate Ahl 43:54
You don't see the Pinterest CEOs out there right now. But they very much know what they have. I just think they have to shout it from the rooftops more. You have the app that people don't get rid of in a social media detox, thumbs up, you have these pieces. Let's get them out there. And I think I see them being more aware of it now.
Kate Ahl 44:13
And so, whether or not it has buzz in the future or not, it's still a great tool to leverage for your business. It's your choice whether or not you want to do it.
Jillian Leslie 44:24
It can be your secret competitive advantage, don't shout it from the rooftops.
Kate Ahl 44:29
We have some clients who say that too. Some clients have told us in the past and we're like, "Hey, can we use you as a testimonial?" And they're like, "I don't want people to know I use it and I don't want people to know I use you because it's like my secret weapon." I'm like, okay, I respect that.
Jillian Leslie 44:46
So, keep this all on the down low. I would say for us, remember, for Catch My Party. Pinterest still drives a ton of traffic. Although our traffic has gone through peaks and valleys and stuff, but it still really does. And I keep that quiet within myself because I don't want to jinx it. I know that sounds weird.
Kate Ahl 45:09
I know.
Jillian Leslie 45:11
Kind of like Static Pins really do work for us. And I gave to go like, oh, I don't know if we're the exception or whatever. But definitely, it really does drive traffic for us. I did start to get nervous when I'm watching all these changes with Pinterest. And I'm seeing them trying to be more of a shopping platform.
Jillian Leslie 45:31
I feel like they went through a whole host of different permutations trying on like, we're going to be Instagram. Oh, no, we're going to be TikTok. We're like the also rant, and we're not being great to creators. I felt like they were really struggling. So, I was more nervous.
Jillian Leslie 45:50
I, like you. I will say, I am more bullish on Pinterest now that I have been for a very long time.
Kate Ahl 45:58
I'm really hoping 2023 is going to be a good comeback here for them. I would say to anybody listening, as they've listened to us and process all of this out. If you had to come back to an anchor, it really is opening up your Google Analytics. This is if you're seasoned. If you've been using Pinterest for two to three years or longer.
Kate Ahl 46:17
Look at what the data is telling you as far as acquisition and referrals, where are they coming from. And if you're totally new, and you're building your business, make a decision about what you're going to invest in and don't let yourself be swayed for the next eight months. Hold to that.
Kate Ahl 46:34
And I know it's going to be hard. And I know it's going to feel like it's not doing anything. But I really think that any platform. If you're going to choose YouTube, if you're going to choose LinkedIn, you can't just get on it and have immediate success. I know there are stories out there. But we are long past that.
Kate Ahl 46:34
And we're in a very new environment where you're connecting with your consumers in a new way. So, I just think it's set your intentions, know your data, know your markers, and then start your journey.
Jillian Leslie 47:04
I love that. Kate, you've inspired me and I've been thinking these things, and you validated it. So, I'm going to leave this conversation happier and more hopeful about Pinterest. And wanting to do more on the platform and not not holding my breath hoping things don't spiral out of control. I feel like they aren't getting it together.
Jillian Leslie 47:29
Especially in this landscape, as we were talking about where everything is shifting, and nobody really knows what the next couple of quarters are going to look like for everybody's business. And we're holding on tight right now. This feels like again, think of it as that spouse that shows up for you.
Kate Ahl 47:29
Yes, 100%.
Jillian Leslie 47:50
Awesome. Alright. Kate, I love having you on the show. I'm sure I will have you back. Thank you so much for sharing all of this great information at the start of the new year.
Kate Ahl 48:01
Thanks so much for having me.
Jillian Leslie 48:03
I hope you guys liked this episode with Kate. By the way, I didn't ask her how you guys could learn more about her reach out to her. Go to Simple Pin Media to find out all that she offers. And her wonderful podcast is called Simple Pin Podcast. And if you're an agency owner, looking to grow, go to kateahl.com.
Jillian Leslie 48:26
We at Catch My Party and MiloTree invest a lot of time in Pinterest. And this just validated for me that that was a good idea.
Jillian Leslie 48:35
I also like that Pinterest is leaning into products because you know, I hope to push you to start creating digital products so that you can grow your business in a whole different way. And take control back from all the algorithms and all of the rented land.
Jillian Leslie 48:51
I'm watching people who never thought they could do this have tremendous success even if it's starting with an eBook.
Jillian Leslie 48:57
So, please book a free 15-minute call with me. I promise this is not a sales call. I want to hear what you want to build and help you get there. Go to milotree.com/meet Because I want to meet you and I will see you here again next week.
Other related Blogger Genius Podcast episodes you'll enjoy:
Imagine a World Where You Could Sell Digital Products and Tap into a New Income Stream with Ease…
If you are interested in selling paid workshops, digital downloads, memberships, subscriptions, or coaching in under 10 minutes, get MiloTreeCart at our lifetime launch price of $349. Just a one-time payment.
MiloTreeCart is built for non-techies. No coding, design, or website needed. If you're a female creator, this is for you!
You get fill-in-the-blank sales pages, checkout pages, and payment collection, plus, a dashboard to manage your sales. Also, MiloTreeCart integrates with all major email service providers.
And of course, there's a 30-day no questions asked money back guarantee. We're only happy when you are!
Find out more about MiloTreeCart here!