People ask me all the time how we grew our Catch My Party Pinterest account to over one million followers. I always say it's by being consistent, using strong keywords, creating engaging pins, and being proactive about growing our followers.
Here's a screenshot of our Catch My Party Pinterest Page with our 1+ million followers
Because I use these 4 tools to grow our Pinterest account, I wanted to share them with you, so you, too, can grow your followers and get more traffic from Pinterest.
Here are my 4 favorite tools on Pinterest for scheduling, designing, engaging, and growing our followers.
Tailwind – Best tool for scheduling pins
We use Tailwind every day to schedule our pins. We currently pin about 80 pins a day, which would be impossible without Tailwind.
Tailwind also helps keep our feed looking fresh because we can set up all our pins at once, then have them pin in intervals so our feed always looks varied.
I especially love Tailwind's new SmartLoop feature, where our old pins can be repinned automatically to our boards with very little effort. This is incredibly useful for our backlog of seasonal content. Now the content gets easily rediscovered, driving additional traffic to our site.
The people at Tailwind are top-notch. Get on their email list. They share useful Pinterest tips and information to keep me up to date. In fact, I've interviewed two of them, Alisa Meredith and David Christopher, on my podcast, The Blogger Genius.
If you are serious about Pinterest, you need to try Tailwind. It's a must-have for us.
PicMonkey – Best tool for designing pins
We create new images for Pinterest everyday. Because people upload their beautiful party photos to our site, Catch My Party, we take the best photos from parties and create collages out of them.
This way, when someone sees one of our party collages on Pinterest, they know that if they click through, they will be able to browse a collection of gorgeous, inspiring photos from that party.
We also make collages using PicMonkey for our recipes and crafts, to give people an idea of what they'll see in the blog post if they click.
PicMonkey has templates you can personalize. They even have set sizes for social media images.
If you are not a designer (and even if you are), PicMonkey will be your best friend because it saves you so much time and the results look great.
Pinterest Analytics – Best tool for understanding audience behavior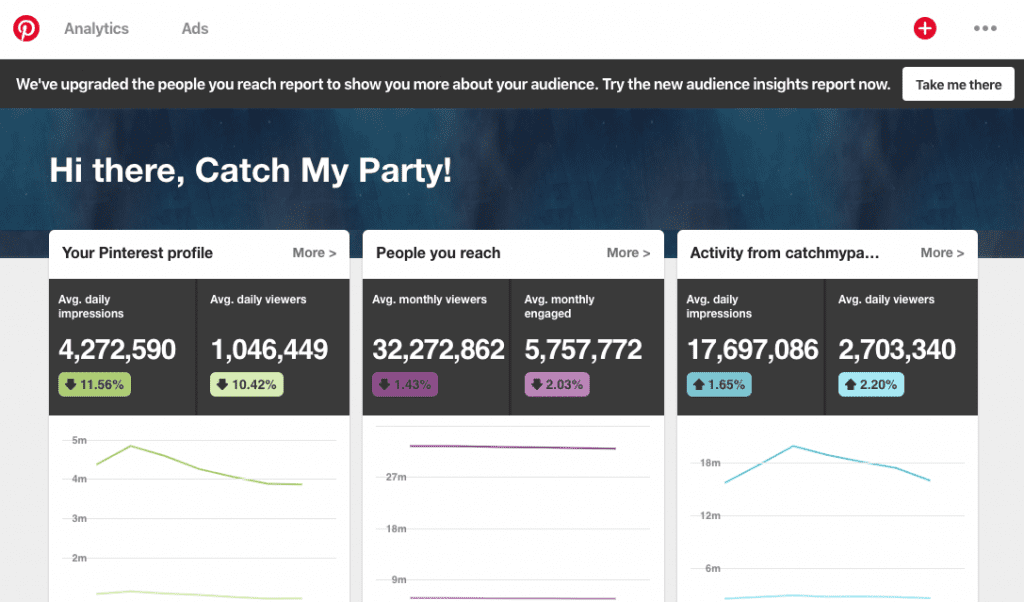 Yep, I'm talking about the built-in analytics in your Pinterest dashboard.
In order to see your analytics, you must first verify your Pinterest account. You can see where to do this in the "Settings" dropdown menu on your Pinterest page.
What I love about their analytics is that I get to see, in a quick snapshot, how our past pins are performing, what pins people are currently pinning directly from our site, and which pieces of content are resonating with our audience so we can make more like it. I also see trends in our number of clicks.
I check our Pinterest analytics at least once a week to make sure the path we're taking is the best one to maximize our traffic from Pinterest.
MiloTree – Best tool for growing Pinterest followers
MiloTree is definitely our secret weapon to growing our followers (and we built it ourselves)!
MiloTree is a pop-up app you install on your site that pops up and asks your visitors to follow you on Pinterest. The pop-up is automatically populated with your latest pins, so your visitors see you're serious about the platform.
In fact, when we saw how important Pinterest was for growing Catch My Party, we built MiloTree for ourselves to grow our Pinterest followers.
Then when it worked so well for us, we rolled it out as a separate company to help other bloggers and online entrepreneurs grow their followers too.
The reason followers matters on Pinterest, is because Pinterest shows your content to your followers first. If your followers engage with those pins, Pinterest shows your pins to more and more people, and your traffic explodes.
It's not your raw number of followers on Pinterest that matters, it's the quality of those followers. 
One great thing about MiloTree is that it takes your blog visitors and converts them into followers 24/7. And these people are your highest quality followers because they already know and love your content.
Another great thing is you can install it on your site in 2 minutes with our WordPress plugin or one line of code.
But don't just take our word for it. Hear what other MiloTree customers say:
In my almost first 30 days of using MiloTree, I've had almost 500 new followers on Pinterest, OMG! You have a new customer for life. 🙂 This plug-in is worth every penny! – Carrie – Clean Eating Kitchen
I signed up for MiloTree with 350 followers and now I have WELL over 1,000. When I first signed up for MiloTree I gained 72 followers in the first 7 days! – Max – Tried and True Mom Jobs
"The pop-up is SOO easy to install and the analytics are great! With the help of MiloTree, my Pinterest following has increased by over 2,000 followers in less than a month!!" – Whitney – Beauty in the Mess
Less than 2 years ago I started my blog, and it has since grown to having 6.6 million pageviews. I know a HUGE reason this has happened is because my readers have followed me on Pinterest after visiting my site and seeing my MiloTree pop-up. MiloTree is such a great tool! – Caroline – Swaddles N' Bottles
Go ahead, grow your followers for 30 days free! Then it's $9/month. Cancel anytime. No contracts ever. We're here if you need any help setting it up.
Other Pinterest Resources:
What is the best Pinterest pop-up to get more followers?
How do I grow my social media followers authentically?
What is the best WordPress plugin to get more Pinterest followers?