Ready to see how Jumprope can help your business and blog grow? For those who don't know, Jumprope is both a video creating tool and a social media platform. And both are worth exploring.
Today I'm interviewing the CEO of Jumprope, Jake Poses. We're talking about how Jumprope helps bloggers and online entrepreneurs create easy video and how it enables their content to be found.
In this interview, we discuss:
What is Jumprope?
How to create easy videos on the platform
How the platform is great for learning new skills
How Jumprope can grow your Google traffic
Their future plans for helping you monetize your content
What's interesting about Jumprope is that it's an easy tool to use for creating video, and a platform for content discovery.
This episode might make you think about creating content and sharing it in a whole different way!
Show Notes
Subscribe to The Blogger Genius Podcast:
Transcript for How Jumprope Can Help You Grow Your Business:
Welcome to The Blogger Genius Podcast brought to you by MiloTree. Here's your host, Jillian Leslie.
Jillian Leslie 0:11
Hello, my friend. Welcome back to the show. This is Jillian Leslie, host to the podcast founder of MiloTree and Catch My Party. I'm also a business coach and a business translator.
I take what's working in blogging today, and I break it down so you can use the strategies yourself. I've been hearing people talk about how difficult right now it is to grow social media followers, especially on Instagram and their email list.
And I just wanted to do a quick shout out for MiloTree, which is the pop-up app that we built, that will grow your most engaged followers, you install it on your blog, and it pops up when a visitor shows up and ask them to follow you. And it does work.
So, if you are struggling, definitely head to MiloTree and check it out.
For today's episode, I have Jake Poses on the show, Jake is CEO of Jumprope.
What is the new Jumprope app?
For those of you who don't know, Jumprope is a new social media platform where you can share how to video slide shows really easily. It's both technologies, it helps you make these videos really quickly that you can then share on other platforms.
And it's a platform in and of itself. The cool thing about Jumprope, again, is the ease of use. But also, by creating these. They're called Web Stories. You can potentially drive extra traffic to your blog, I think you're going to find this interesting.
I think by the end of this, you're going to be checking out Jumprope. So, without further delay, here is my interview with Jake Poses. Jake, welcome to the show.
Jake Poses 1:58
Thank you for having me.
Jillian Leslie 1:59
We actually got on a call yesterday, a Zoom call to record the podcast. And we ended up talking for so long that we ran out of time and had to reschedule it for today, which I think is really funny. So, I have to tell you how I discovered Jumprope.
So, I knew nothing about this. And we do an ongoing coaching group with people who've gone through our programs. And we have these ongoing relationships. And we meet with this group of bloggers who are on all different verticals twice a month.
And we show up and one woman who is a food blogger in the group says we need to talk about this thing called Jumprope. So, she needed to make video, many food bloggers want video embedded on their recipes.
Unexpected Google Traffic from Jumprope
And she discovered this tool where she could make videos easily. And then she was making some videos. And then weirdly noticed the traffic on those posts was going up like shockingly, by fivefold, tenfold. And she said, I want you guys to check this out.
So, we all downloaded the app and started playing around with it. And I said, "I need to talk to somebody from Jumprope." And I looked in my LinkedIn because I kind of remember that maybe I'd connected to somebody.
Turns out, I had connected to you the CEO of Jumprope, because we had both gone to Stanford Business School at different times. And I think you were recommended to me. And serendipitously, we had already been connected.
So, I reached out to you. And I said, "Hey, Jake, would you come on my podcast?" And here you are. It was a very long story.
Jake Poses 3:45
Thanks for having me. Yes. And that is very indicative of how creators on Jumprope are discovering us and sharing us in communities that already exist. And that's how we've gotten, tens of thousands of people that create amazing content on the app.
And thanks for taking the time to have me on the podcast.
Creating easy video tutorial slideshows with Jumprope
Jillian Leslie 4:06
Yes, so let's talk about there are kind of different elements to Jumprope. There's a tool for building content, kind of video tutorials. And then there is a platform think like Instagram, where your Jumpropes can live.
But you could also just use the tool and download these files, and then share them on social media, put them on your blog. So, could you talk to Jumprope, the whole scope of it and how creators, bloggers, creative entrepreneurs can use it.
Jake Poses 4:44
Absolutely.
And we now have about 2 million unique people coming to Jumprope each month to discover the amazing content that amazing creators are creating. We know that creators don't just want to be on one platform.
And we know that therefore helping creators not just create content for Jumprope, but create content for all of the platforms that they want to be on, is going to make Jumprope a great place for creators.
Solving a problem for creators—creating easy video to share
And we learned this very early in the journey, that if we could solve this problem for creators. I just want to create once and I want to get all of the content, I want stories, I want a horizontal video, I want a vertical video, I want to pin for Pinterest.
I want something that's HTML that can put on blog. And if we could build something where you create once and in just a matter of clicks can share to whatever platforms you want to be on.
It doesn't share by default, you pick when and where you want to share that would be a really, really powerful tool for the creator community.
And encourage creators to start putting content on Jumprope as a platform, where they could also get discovered, build a new audience, and also drive some traffic off to their blog, etc.
Jillian Leslie 6:09
So, if I use the tool to create a tutorial, and I just created my first Jumprope where I shared for you podcast listeners, my nine tips for growing your business in 2021. And one of them is get your face on video, remember that so you can do that on Jumprope.
Okay, so if I create using the tool does my tutorial, Jumprope and jump on the Jumprope platform? Do I have to do anything to push it there? How does that work?
Jake Poses 6:41
What we've built in Jumprope is we really rethought the process of creating video, because we know that video is really intimidating and hard. And the open-ended format, the complexity of the tools, the equipment you need is a huge barrier.
And so, the first thing we did was we totally rethought the concept of video editing. We went away from this open-ended timeline format, and used a lot of the principles of the simplicity of creation of stories.
And so, you create Jumpropes in these little approachable cards that are steps. And those map to the steps of recipe, the steps of your craft project etc. And the Jumprope format. Whenever you create a Jumprope, it lives it lives on the app.
And it lives in that step-by-step format, what we're then able to do is because you're creating in the structured format, the app is able to programmatically create you a horizontal video or vertical video stories, etc.
Then you can download to your phone. And we're actually in the process of launching a desktop version for Macs at least. And then share to, again, whatever platforms you want to share to.
Whether that's sharing a vertical thing in IGTV. Whether it's sharing a horizontal video to YouTube, or putting that horizontal video in your Mediavine or AdThrive player to have that help you monetize on your blog, or sharing images to Pinterest.
That's how bloggers and creators are using Jumprope today.
Jillian Leslie 8:10
Now what I really like about this is that you've reduced my crayon box. So, when I think about and this is actually again, was the use case for this food blogger who loves making recipes and doesn't want to spend her time learning like Adobe Final Cut Pro.
That she just wants to quickly figure out how to make a tutorial so, that therefore there are only a few things really, I can do in creating my Jumprope. So, I can put up a video, I can put up a static image. And then I have a like a box where I can write text.
And you will put like step one, or two or three or four and each one by the way can only be at most a minute of video that you upload. So, I've learned this.
Jake Poses 9:02
A minute per card.
Jillian Leslie 9:03
Per card.
Jake Poses 9:05
The total video can be as long as you want.
Jillian Leslie 9:10
What I did was I created little videos of less than a minute and then uploaded each one and then wrote a little description. And so, in a weird way, by taking all of my 64-box crayon and shrinking it down to like eight crayons, it made me create faster.
Remember, I always I talked about this concept called B-minus work, which is do not shoot for a-level work. B-minus work. It's above average, and you can get stuff done. So, I feel like you could get these jump ropes created really quickly on the platform.
And then you have all this content to share. So, I want to say thank you because it's like this easy way to really create lots of cool content. And one last thing. David and I, my husband and partner and I talk about this all the time.
Jumprope Puts your Content Front and Center
You want your content front and center, not all the bells and whistles. And I feel like Jumprope is a great way to do that.
Jake Poses 10:08
Absolutely, just to give you what we hear from again, tens of thousands of creators on YouTube, like your community creating on the app is several things.
One is, we often hear, Jumprope took what would have taken me a day, maybe longer. and enabled me to do that in an hour, maybe less. That's one thing.
Two is the vast majority of people on Jumprope. Creators using Jumprope were not creating video-based content, other than maybe some stray stuff and Instagram stories before using Jumprope.
Because we've made that process now approachable to people who have again, none of those skills.
The last thing I'd say is one way some people are getting started on Jumprope is you can actually create a Jumprope video without actually taking any video footage. So, you may have some process photos of a craft project.
A bunch of photos from a tour of a certain city or a bunch of step photos of different steps of a recipe. You can easily upload those into Jumprope.
And actually, if you have that shot, in a matter of minutes, create your first Jumprope. Your first piece of content on the app.
And so, what I often say to people who are even intimidated to get started with something new. Just take a bunch of photos that you have, or little videos you have in your camera roll, import them into Jumprope.
Five minutes later, you'll get a sense of, is Jumprope something that is right for you, that you think is going to help you grow your audience and build your business.
Getting Google Traffic from Your Jumprope Videos
Jillian Leslie 11:44
I think that's terrific. Okay. Now, here's this other piece that I want to dig into. Again, the person who told us about Jumprope, food blogger was creating Jumpropes because it was easy.
And then all of a sudden noticed that she was getting traffic, and that you are talking to Google again, like nobody knows what's in the Google algorithm. But you have found as did she, that your Jumpropes tend to show up in Google searches.
Jake Poses 12:20
So, let me step back on this. So, we've actually, and again, we've said this publicly on our blog.
Google said this publicly. We've been partnering or we partnered with Google for the past year or two to work on basically building the Jumprope viewing experience into a format called Web Stories. That Google's really promoting and excited about.
And recently, really, really started promoting on Google Feeds or what they call Google Discover, which globally reaches about a billion people a day. And so, we've rebuilt the Jumprope consumption experience.
This step by step, unique experience of consuming a recipe or craft project into something that is Google favorable and Google understands. What we're then seeing is, and I think, as you mentioned, is that we enable bloggers to put links to several things.
You Can Add Links to Your Jumprope
One is you can sell products through Jumprope. So, you can link to any product that you have, and put in whatever affiliate code or etc. on any Jumprope. We're making Jumprope very shoppable.
The second thing you can do is if there's a place where you need, your blog post to find more information about a recipe or a travel guide to find more information about a destination. You can link to a blog post within each Jumprope.
You also can link to your home, like overall homepage of your blog, within your Jumprope profile. And what we're seeing is that creators who are doing a really, really great job creating detailed helpful content on Jumprope.
So, a full recipe of our travel guide, of our beauty tutorial, are then seeing a whole new audience discover them via the Jumprope platform. And some of that Jumprope audience is coming through Google Discover where they're discovering Jumprope.
And then clicking through to creative blogs. And they're telling us they're building a whole new audience. That audience is highly engaged. Time on site of that audience is much higher than other traffic. And so, we're excited about that.
Jillian Leslie 14:26
That's amazing. And one thing we talked about yesterday, is that the more time you spend fleshing out your Jumprope. Making it a really good experience. People like that, and then you're rewarded for that.
And therefore, your links probably matter more. You can't just come onto Jumprope, put, "Hey, this is a recipe." And then just link over to your blog and think that's going to get you traffic. It's really about making the entire experience really full and rich.
Why You Want Your Jumpropes to Feel Complete
Jake Poses 14:59
Totally and that's exactly right. And what we're seeing is the content that is getting, hundreds of thousands of views and the most views are content that is complete.
It's a recipe that has all of the details, you need to complete the recipe, including the ingredients and how much of them you need. It's there, the craft project has all of the supplies laid out, and each of the steps in detail.
That's the content that's actually getting viewed on Jumprope. And so, what's then happening, if someone's like, "Oh, my God, this content is so helpful, I love this, you've taught me how to make this amazing, keto brownie recipe."
And then those people are saying, "Oh, I want to learn more about not entirely average, or olive and mango." And they're then saying, "I want to connect with this person, I want to learn more about them."
And they're clicking through to your blog to discover more about what you have, they're spending more time on your Jumprope profile.
And so, what we're seeing is creators, who are doing a great job creating really helpful, detailed, informative Jumpropes.
Are then reaching a whole new audience that is then following them and engaging with them not just on Jumprope, but on their blog, on Instagram, on YouTube, etc.
Jillian Leslie 16:13
So, we talked about this, the beginnings of new platforms, there's a little bit of like a gold rush idea, like get in early and start creating content? And then for example, for Catch My Party, we got onto Pinterest very early.
Well, we've grown our followers very organically. In the beginning, it was very easy to grow followers. So, right now we have like a million and a half followers. If we were starting today, that would be more difficult.
And do you feel like this is the time like, I'm excited to have you on the show? Because it's like, hey, this might be a really nice opportunity for bloggers to start on this new platform. I know, it's your platform.
You might be a little biased, but what's your thought about that?
Jake Poses 17:04
Instead of saying what I think I'll tell you what we're hearing from the community. And what we're hearing from the community is, a bunch of people have said things like, "I missed the ball on Instagram, I regretted it, I got on too late."
"And I feel like Jumprope is going to be the next big platform, and I'm investing in it." Obviously, we want that it's our baby, we want people to do that. But we're not telling people to do that. People are doing it because they see the momentum of the platform.
And they're just like, this makes sense, this format that you've built and the way you've done this. And you've built something specifically for people who want to learn something new.
A recipe, a craft project, a travel guide, we're not trying to be all things to all people. Jumprope is not a place where you post photos of your night out last night. We built something specifically for learning how to do things.
And I think what we're seeing out of both creators and viewers, they're like, yes, this solves a bunch of things that I've been frustrated about the way other platforms work in the format. And they want to be on this journey with us.
Jillian Leslie 18:15
Good. What's the sweet spot? So, for example, can you give me your tips on how to create a Jumprope that will succeed?
For example, number of cards, or I don't know what you call them? How much detail? What fonts? Like what verticals, all of that, so I can have success?
Jake Poses 18:38
Absolutely. So, I think what we're seeing is the sweet spot. What I would say is that you're the creator and you know what's best. Do the amount of detail that you think is right for your audience.
There is no specific right answer. If you're teaching a knife skill, that may only be three or four steps that you need to explain that but that might be a really, really terrific Jumprope. Because it doesn't need to be 15 steps.
What we are seeing though, is that for most things like recipes, craft projects, beauty tutorials, travel guides, things that are in the, 15 card range, 15 to 20 card range, are doing the best.
And that's because what we're finding is viewers on Jumprope. This is not TikTok, this is not a place to get a really quick show something whiz being done. Our viewers want to know the details.
They want to know, what should this look like when it's done being mixed. Or exactly what is the tip for threading this piece of yarn through this hard area in a craft project. Our viewers want and are interested in seeing and hearing about that detail.
And we're finding the Jumpropes that are a bit more detailed are getting the highest engagement. So, I would aim for about 15 steps.
In terms of what verticals we've talked about a bunch of these. Our biggest vertical is food. So, recipe content is doing really, really well. Other things that are doing terrifically well are travel guides, beauty tutorials,
Jillian Leslie 20:09
Can you explain what is a travel guide?
Jake Poses 20:12
A travel guide could be anything from the best things to do with kids in San Diego to if you're going to go on this hike, here are the detailed instructions for like, look out for this marker before you're going to turn.
Here are the things you might want to pack in advance,. There's no water for the next three miles. So, make sure you account for that, etc. So, I think city guides, neighborhood guides are doing really well.
As are these more specific guides to how to explore and tips for a specific destination. DIY and home stuff across the board are doing really well. Again, there should have lots and lots of, of niches, niches in there.
Those are the verticals that are standing out so far. But I would say like, we've seen people be success in social media tips, we've seen success in people like helping people with photography tips, and so even like magic tricks.
I would say the biggest things or some of the biggest things why people turn to this content, on the internet. But don't let that limit what you think you can do with Jumprope.
And really, there's a lot of content that's sort of tutorial. So, teaching you how to do something. And a lot of content that falls more into kind of a list.
Like, if you think about a city guide and neighborhood guide. Here are the 10 interesting outdoor hikes within an hour of New York City, it's really more of a listicle. And we're seeing that do really well.
One interesting thing we're seeing as well is we enable you to link from one Jumprope to another Jumprope. So, once you've created a bunch of content, a woman named Sarah from a blog called "A Food Lovers Life."
She has created a whole set of tutorials around like sourdough bread baking techniques, which was obviously a big 2020 trend. And so, she's made a bunch of individual Jumprope with different sourdough techniques.
But then she's created a Jumprope that is a list of those. And so, she then lists off each of the techniques, and then links to each of them within each of those cards.
Jillian Leslie 22:20
That's so meta. So, she's making a Jumprope above her Jumpropes and linking to each Jumprope.
Jake Poses 22:25
Exactly. And so, back to what you said, of how do I do less work and get more legs out of the same amount of content is that obviously, she's not having to take out her camera, again.
It probably takes her all of a couple minutes in the Jumprope app to make that aggregate.
And then we're also seeing other people come in, and this is all on Pinterest, and aggregate other people's Jumprope. So, they say, here are 10 interesting keto wraps.
Jillian Leslie 22:53
Like a roundup of Jumpropes.
Jake Poses 22:55
Exactly. And then again, this is if you go look at what trends on. If you go look at like media companies, they're doing these roundups of 28 recipes for this or best 10, restaurants to eat at in Chicago.
And so, in a lot of ways what we're seeing succeed on Jumprope and what we've done is we're enabling creators to create content that historically, only media companies could do in expensive studios, in places like New York City and LA.
And now anyone can do that from their kitchen counter, bathroom mirror, gym, garage. And frankly, you don't even have to buy a single piece of equipment, we can show you on the app, how to make a tripod out of like, a box or a stepstool.
And like a coffee table book, you put your iPhone on top of it. And so, the really gratifying thing to me is just how many creators we've enabled to unlock sharing so much more knowledge and passion than they were before they had Jumprope.
Jillian Leslie 23:58
I have two comments. One is, I love that it's all about being "can do." And like figuring out how to make a tripod or figuring stuff out.
And I would say that, as bloggers and online entrepreneurs, you know yourself that all you're doing is putting things together and figuring it out.
You Can Find Success on Jumprope Easily
And so, I love that spirit, that you don't need to have a ton of money or a full studio or whatever. And you can hack it together because we are such believers in that.
And secondly, this is a personal question. As a founder of this app. Are you surprised by how your users are using the app and the tools and the content and things like that?
Jake Poses 24:45
Yes. I believe, and this is a part of my philosophy in building a product is, experiment and put things out there and let your users help you and tell you what they like and what they don't like.
And so, we were surprised every day with interesting things people create on Jumprope. And I'm like, I never would have imagined people using Jumprope for your magic was a good case. I was like, this is fascinating.
I never thought Jumprope was a place to show and teach a magic trick for example. An interesting thing we see is like, certain features we build, it's like, wow. We thought that matter to people, but we didn't realize how much that mattered to people.
I'll give you a good example, for the ingredients or product photos, we used to like, you had to take them yourself. And we saw that a lot of people would just write lines or write cilantro, and they wouldn't actually put a photo in.
And so, we're like, what if we actually have a library of them. And you can just pick because people probably don't need to take their own photo of a lime.
And by building that feature, we saw a massive increase in just the number of images associated with products. And it was just great to see this spark of intuition, on our side turned into really improving the experience for creators.
And again, what we're constantly thinking about is how do we do things like that. That basically enables you as the creator to create something you're really proud of, and excited to put out there in the world.
And is actually really helpful to people in way less time. And I think the creators have been on the app for a while know that, we're constantly improving things, and it is far from perfect.
Jumprope Welcomes Feedback from Their Creators
Today, we want your feedback. And the app is only as good as it is today. Because we've gotten amazing feedback from creators.
And we welcome and want and ask for that feedback, as you as a creator today are helping us make this better for both you in the future, and other people like you in the future.
Jillian Leslie 26:54
Okay, I love that you said that. Because one thing that we talk a lot about is this idea that you co-create with your users with your visitors. So, you have a hypothesis, hey, if we give people a library of lemons, maybe they'll use them.
And then you throw it out there and you test it. And my hunch is, you might be testing stuff kind of raw, a little rough around the edges, because you don't know. But this is exactly by the way for bloggers.
If you look at my nine tips for 2021, it's all about test. Test cheaply, test fast and test often. And by the way, assume your test is going to fail. So, that when you find those gems, you then dig into those gems, but you don't take it personally, when it fails.
Why You Want to Test Often, Quickly, and Cheaply
Because you're just putting it out there. You're seeing how your audience responds. And then you're building off of it. So, if you think we've finished our product, like our thing, our eBook, our course, our app, and it's perfect. Oh, you are so in the wrong direction.
So, that's why I say put it up faster, where you're a little embarrassed. But then go let people run with it. And you will be surprised at how people use stuff and how they build stuff. And I love you going like, "Wow, magic, I never would have thought of that."
And so, this is one of the things I think is so amazing about building businesses on the internet, you get to get really close to your audience. And then you get to co-create together.
Jake Poses 28:33
Absolutely. And this is our philosophy of Jumproping. So, again, as you said, I've encouraged us for anyone building a business. If a reasonable percent of your tests aren't failing, you're not testing things that are ambitious.
And can really break through and make the experience better. And I love what you said around like, don't take it personally. Expect a good percentage of your tests to fail.
I was lucky enough to be part of before Jumprope, building what was a very successful business. And in that environment, and again, we built something from no revenue to $100 million of revenue.
The majority of the tests we ran failed, but some of them succeed, magically. And you see this stair-step growth, when you have this test and this breakthrough that succeeds. And so, I as an entrepreneur, I ascribe to that philosophy.
If you use Jumprope in the way we're developing Jumprope, and I encourage others to adopt that philosophy.
Jillian Leslie 29:34
And how do you ask for feedback? Talk about how you are constantly talking to your community?
Jake Poses 29:42
I believe that the best way to ask for feedback is to do it in a lot of different ways. And to do it in the way that works best for the people giving the feedback. And what I mean by that is, we don't have a one size fits all. It's not like fill out this one form.
If you have feedback, we do a variety of different things. I'll give you a sense of them. One is we are constantly getting on the phone and having one-on-one conversations with people.
How to Get Feedback
Jillian Leslie 30:07
I love that. I say this all the time. I have to say do stuff that doesn't scale, you cannot get on the phone with 2 million people who are using Jumprope or watching but you can get on the phone with five people, three people.
Jake Poses 30:21
One is one-on-ones. The second is small groups. And I find that there is sometimes this interesting in the same way, like a brainstorm you bring people together. There's I think, a thing of like a feedback brainstorm where someone will say something.
And someone's like, "Yeah, that's been bothering me too." Or like, "I think this can be better." And let me tell you why that matters for my use case, and my business.
And so, I find that sometimes we do things in small groups, 3, 4, 5, 6, 7, you get these magical moments of connection, that make the feedback richer.
And the third thing we do is we have like a chat in the app. So, if you have questions or feedback, and we really mine that for insights. What are people constantly asking questions about? What are people confused about?
If we're getting a lot of questions and confusion about something, let's rethink that. And how do we make that better? Because probably if five people are asking a day probably means that like 50, people really have that question.
Maybe more than that, let's think about how we can explain that better in the experience. We do big surveys every so often. I think, surveys are nice, because they get people that are a little bit less vocal, to also communicate what they're thinking.
And so, emailing a survey, again, people have an email list, emailing a quick, I encourage you to keep it short, and really think five questions and think, really critically about what are you getting out of each of those questions.
We constantly, similar to customers, what we're looking at our reviews. And if you're using Jumprope, I thank you for submitting a review on the App Store or the Google Play Store. Reading those is actually really rich sense of feedback.
So, like it's all of the above. And then what we're doing as a team is it's about like the synthesis. We can't address everyone's feedback immediately. So, which things are one offs for very specific usecases that we just like, shouldn't prioritize?
And what things are we hearing that are, this is important and affecting a lot of people, let's really prioritize working on that.
Use Hashtags on Jumprope to Get Your Content Found
Jillian Leslie 32:28
Now, let's talk just how to get stuff done. How does the hashtags work on Jumprope?
Jake Poses 32:34
Absolutely. How hashtags work on Jumprope is hashtags are part of, like on other social platforms, you'll get your content discovered. You can do it at any point.
But at the end of when you're about ready to publish a Jumprope, we give you a few suggested hashtags. You can see the hashtags you've used in the past, and you can add new fresh hashtags. And then that does several things.
One is, similar to Pinterest, or Instagram or Twitter, we curate a feed for each viewer on the platform based on their interests, using machine learning.
And so, those hashtags help us say, "Okay, this viewer may be interested in crochet, this content is crochet, we probably want to show it to that user." And then like other platforms, you can search for and follow hashtags.
And so, if you search for crochet, and your Jumprope is tagged in crochet, it will show up.
Jillian Leslie 33:28
Can I add hashtags? Because when I got to the end, I saw that there was a collection of them that I could choose from, but I could add my own?
Jake Poses 33:37
Yes, you can hit a button that says "Add your own", that gives you just a freeform text box to add your own.
Jillian Leslie 33:42
Okay, because I need to do that and be like the entrepreneur or the online business person. Okay. Well, that's good to know. And let's talk about this one last thing.
How People Use Jumprope
Do people come to Jumprope to actually open up Jumprope on their phone while they are making a recipe? Or do people come to Jumprope? I'm one of those people, as I shared with you, I love cooking shows, they calm me down.
And they give me so much. I don't know, happiness. But the truth is, I don't think I've ever made a recipe from watching a cooking show. So, how are people really interacting and using the platform?
Jake Poses 34:26
So, the reality is in both ways, and actually say that there are three reasons why people are coming to Jumprope. One is, pure entertainment.
They're not trying to make this recipe they're not trying to go to this city, but they're just curious and interested in what you're doing.
Although what we do find in that case is, the people viewing content on Jumprope are interested in the details. They find the details interested. They're passionate and interested in these topics.
The second is, inspiration which might be I'm going to cook dinner tonight. I have a bunch of chicken in my refrigerator. What do I want to make with this chicken?
And they may go look at a bunch of chicken recipes to decide what they're going to make for dinner.
And then that third use case is it's actually now dinner time. And I don't know how to make, this fajitas recipe. And so, I need to follow a long step by step, how many pounds of chicken do I need, how finely do I chop it, etc.
And they'll just leave the Jumprope app open for, you know, 45 minutes on their counter. And one of the magical things about the Jumprope format is that person who just wants to be entertained, is probably going to tap through the Jumprope quite fast.
The person who actually is cooking is going to put Jumprope into what we call autoplay off mode, which means the steps will just loop until they're ready to go on to the next step.
Jillian Leslie 35:49
You can freeze a step?
Jake Poses 35:51
Yes, you can freeze each step. The app has two modes. It has a mode of just like Instagram stories, when the story ends, carry on to the next one. And you can tap and move even faster than that.
And it has a motor, obviously, I can't chop as fast as th, 8x sped up chopping in this video, but I still can understand how I need to chop. So, I'm going to put this in autopilot mode and just have that chopping loop on my screen.
And then I'll tap when I'm finished chopping my chicken. And this is what we've done with Jumprope. And this is in the beginning of it. We said, what are the people's frustrations with using videos using blog posts?
And using other formats to cook and to craft and to travel and to do beauty routines and fitness routines. And we incorporated those frustrations into building a format that, again, viewers are loving and toss it a lot better.
Jillian Leslie 36:48
Like for us we're very technical in our family. And yet, when we make recipes, we print them out on the printer and we have a physical piece of paper. Just because it doesn't feel easy to be watching your video on YouTube and having to click along with it.
Jake Poses 37:04
It's not easy. And so, we've solved that problem.
Jillian Leslie 37:09
What are your plans going forward? What are you building into Jumprope? What could people be looking forward to?
Jake Poses 37:16
And so, one thing we've learned again, and getting very close to creators over the last year or two of building Jumprope is that creators love today that we've enabled them to do something easier and faster than they could without Jumprope.
Monetization is Coming to Jumprope
But they would love us even more if we could help them make more money. And our biggest priority in 2021 is helping creators make more money. Just helping creators make more money.
We already have creators making money on jump rope a bunch of different ways. One is, again, as I said, you can link to any product and include your affiliate code. And so, we have creators who have sold thousands of dollars of different products on the app.
We have people using Jumprope to create sponsored content. And they're getting paid both for that distribution that they're using to export that content to Instagram or YouTube or Pinterest, as well as for views that they're getting.
People are starting to pitch sponsored Jumpropes, to brands in a sponsored content type way. So, we already have people making money on the app. Over the coming months, we're doing several things.
One is, we're making that experience of including products and merchandising and selling things within a Jumprope much better. Better experience to add the products have them be more integrated into your Jumprope.
Which we think is going to drive higher conversion to sales of those kind of products. We're going to give people a chance to have a shop on Jumprope.
So, to list all of the products that they think are exciting. And we see a lot of people have this on their blogs as well.
Second thing, we're working through and we're working with Google on this as well, is an Ad Format that lets people monetize their content directly on Jumprope. And so, we don't have a specific date for when we're going to launch this.
But think about it as similar to YouTube. You put your content on YouTube, and Jumprope insert your respectful ads within it.
And you'll be able to make money on Jumprope. Again, this is coming. I can't give you a specific date that this is going to launch.
We're also thirdly experimenting with a tipping model. What we've heard from viewers is that they really appreciate when they're able to use Jumprope to make a fajitas recipe or learn to explore a new city.
And that they want to contribute back to the creator and support the creator and what's happening on Patreon, etc. And thinking about testing a tipping model where viewers can tip a creator if they've provided something useful.
What I will say is all of this monetization stuff is because what we've heard from viewers is, they want complete content that they can follow along to.
It's almost certainly that what's going to be able to be monetized on the Jumprope platform is content that is detailed, complete, helpful.
So, if you're interested in monetizing on the Jumprope platform. I'd really encourage you to start creating content that is complete, and people can follow along to on our platform as that's what we're going to enable creators to monetize
Jillian Leslie 40:34
What I really like about Jumprope, there are two things, one, the ease with which you can create content and create content fast and have it for all of these different outlets.
And two, this idea that it's like a combination of Pinterest, because Pinterest is about inspiring ideas and sparking creativity and doing things and Jumprope is doing that.
It's got an element of Instagram, because there's like this element of stories and scrolling through stuff. But you've got this ability to add links to things so, that people can have a fuller experience.
If you're a blogger, it's very difficult on Instagram, for example, to drive people off the platform. But here, if you've got more information, you can drive people off the platform.
Oh, and because you've got this relationship with Google, and Google seems to really like what you're putting out there. There are these opportunities for traffic?
Jake Poses 41:44
That is all correct.
Jillian Leslie 41:46
Okay. Jake, if people want to reach out to you, and have questions or feedback, or pitching product ideas for Jumprope, how can they do that?
Jake Poses 41:58
So, I would say feel free to reach out in any of these channels to us as a company or me personally. So, we're @letsjumprope on Instagram. Or you can download the app and if you have the app chat with us on the app if you have a question, etc.
If you want to contact me personally, I'm @jakeposes on Instagram. At @JakePoses on Twitter. Or you can email me directly at jake@jumprope.com.
Jillian Leslie 42:26
Oh, I love it. Well, Jake, I feel like this is the beginning of a beautiful friendship. As to quote one of my favorite movies. And honestly, thank you so much for coming on the show.
Jake Poses 42:36
Thank you for having me.
Jillian Leslie 42:37
I hope you guys liked that episode, I found two things interesting. One is the technology using the video maker that JumpRope provides, whenever I can find a tool to make video quickly. I always want to check it out.
And two, to try making JumpRopes to see if they can drive traffic to your site. Whenever I hear something can drive traffic, my ears always perk up. Will you do me one of two favors?
One, would you go to iTunes and rate this podcast and hopefully give it five stars and a review because this way people can find it and I can continue to get great guests. And or would you join my Facebook group, which is called, Become A Blogger Genius.
And if you go to Facebook and you search for Blogger Genius, you will find the group and I would love you to be a part of it because it continues the conversation, I get to really talk to you. And I'm in there all the time.
So, again, Facebook, Blogger Genius. Come join me over there. And I will see you here again next week.
Grow Your Social Media Followers and Your Email List 24/7!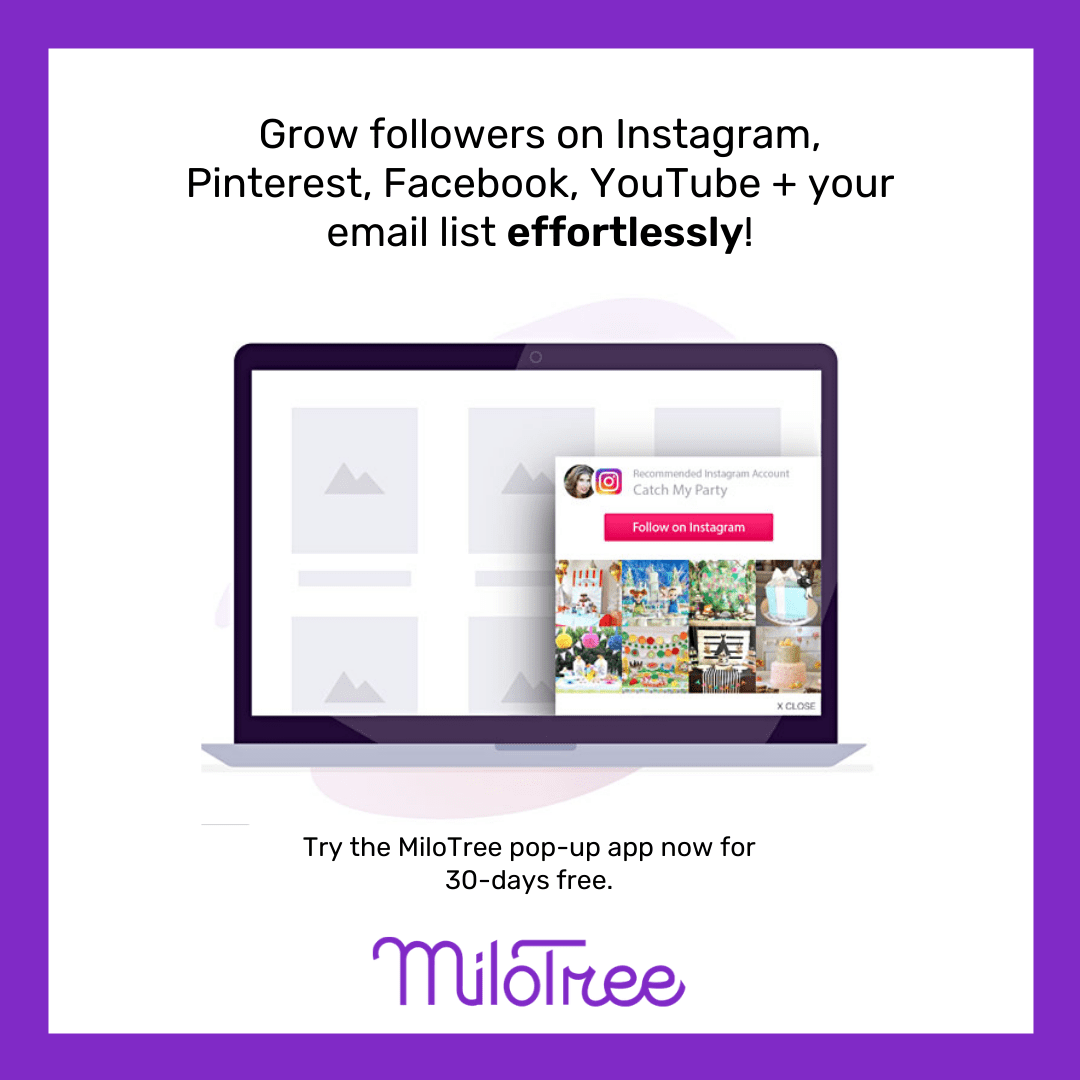 Imagine a world where growing your social media followers and email list was easy…
If you are looking for ways to grow your community whether that be email whether that be social media, right now head to Milotree.com install the MiloTree app on your blog and it will do the work for you. Let it do the heavy lifting for you.
Let it pop up in front of your visitors and ask them to follow you on Instagram Pinterest, YouTube, Facebook, join your list, check out the exit intent but really get your community growing. And we'd love to help you with MiloTree. And I will see you here again next week.
Sign up for MiloTree now and get your first 30 DAYS FREE!