Want to know how to build a new income stream fast and easy? In this episode I'm interviewing Cristy Harfmann again from Happy Family Blog. Here, she shares how she built her new income stream by launching her first successful paid workshop using MiloTree Easy Payments.
Cristy loved hosting her paid workshop so much—teaching bloggers how to work with brands—she's now launched a membership, and is planning new workshops, ebooks, and other products.
What impressed me about Cristy's story, is how she was able to change her vision of herself and her business by putting together this one-hour paid teaching session on Zoom.
What she discovered was that she was an expert in brand partnerships, and her audience was happy to pay her for her knowledge. This lead to new confidence and an entrepreneur and a new appreciation for her business.
In my original episode with Cristy, she shared how she woke up one morning and discovered her Instagram account with close to 70k followers was gone and so was her main way to make money.
If you are leaving yourself vulnerable like Cristy, with only one income stream, I recommend you build more.
See if you, too, have something to teach to your audience. If you do, I'll be happy to help you set up your own paid workshop for free with MiloTree Easy Payments. Just email me.
In the meantime, enjoy the episode. I think you'll find Cristy's story fascinating and inspiring.
Show Notes:
Subscribe to the Blogger Genius Podcast:
Intro 0:04
Welcome to the Blogger Genius Podcast brought to you by MiloTree. Here's your host, Jillian Leslie.
Jillian Leslie 0:11
Hello, my friends. Welcome back to the Blogger Genius Podcast. I'm super excited about today's episode. I have my friend, Cristy Harfmann back on the show for a part two, she is the blogger creator, behind the Happy Family Blog.
And she was on, I think in December sharing about how she lost her big Instagram page. Well, since then, I have been working one-on-one with her to help her set up her first paid workshop. And here she is to tell the story.
How to Build a New Income Stream Fast and Easy
So, she's using our new payment platform, MiloTree Easy Payments, which is the easiest way for creators to get paid for workshops, memberships, services, coaching, and soon downloads.
Anything digital that you can sell directly to your audience, you can check it out by going to milotree.com/easypayments, I think this is going to be a game changer for so many of you.
So without further ado, here is my interview with Cristy Harfmann. Cristy, welcome back to the show.
Cristy Harfmann 1:21
It's so good to see you. I miss you. And I don't get the chance to hang with you. You are just the absolute greatest gift. Thank you for having me.
Jillian Leslie 1:28
I feel the same way. So I have to catch everybody up. Cristy, you were on my episode I released in early January, you lost your Instagram account. It was traumatic. We went through the whole story.
And at the end of it, you were sharing how you needed to find other income streams where you were not so dependent on your very large Instagram page, which is close to 70,000 followers.
You had shared that you monetize predominantly working with brands and they want a presence on Instagram.
Losing an Instagram Account with Close to 70k Followers
Cristy Harfmann 2:06
100%. And that was a very scary day. And I feel like I went to therapy with you in that session. And we've helped. A number of bloggers I've reached out to, say thank you for sharing and have used the links that we shared with them.
But yeah, I was like, wow, it was really, really eye opening with seven streams of income are so important. And I was lying to myself, saying like, "Oh, stories are streams, Instagram itself is a stream."
Those aren't streams. That's all one. And so yes. I was like, "What shall one do?"
Jillian Leslie 2:36
It was funny. So, in the podcast episode, just randomly, we're building out MiloTree Easy Payments. And I said, you've got a lot of knowledge about working with brands, chances are, you could teach that knowledge.
And you were like, "Yeah, that sounds good." But then, life moved on. And on my end, I'm trying to find people to work with to really test out. Like kick the tires on our product to make sure it's working well and that our customers understand it.
And I reached out to you. And I said, "Hey, I will help you get up a paid workshop really quickly. And we could do this?" And you said, "Yes." Would you share what this experience has been like for you?
Setting Up a Masterclass with MiloTree Easy Payments to Teach Bloggers How to Work with Brands
Cristy Harfmann 3:20
Of course. So, I have to say it was on my list after you and I met. I was like, okay, I'm going to do this, I'm going to do a masterclass on how to work with brands, I started talking to friends, they were interested.
And then it just sat on my to-do-list and it probably would have sat on my to-do-list for maybe a year if you hadn't reached out, because it sounded so overwhelming. And I started to get caught up in life and making myself anxious about it.
And so, when you sat down with me, you had a great worksheet. You said, "Let's just answer these questions. What do you want to call the workshop? What value do you want to be giving to people?"
I was like, oh, my gosh, you and I just talked about imposter syndrome before we started recording. And I certainly have it and I was reading a blog post from someone else who is like a big deal in our industry.
And she was saying, if you don't have it, then you're lying to yourself. And I think that's so true. Because yes, I have supported my family for the last couple of years with my blog, and I have built out a following of over 100,000.
I know how to work with brands. And I think sitting down with you and going through that process and going to my Instagram community and saying, "Who wants this?"
I didn't know if my Instagram community had potential bloggers or bloggers who are just starting out. I know that I have a lot of my friends who are bloggers who do great brand work, but they came and they were excited and I was so nervous.
And then you provided the super super easy templates for me to create the masterclass that literally said like insert your information here and here and here.
And it made it so easy to go step by step by step, that before I knew it, there were tons of people signed up, and like the day was coming. And it came and it was so good. And we were just saying, it totally reinvigorated me for my business.
Because people have questions. And I remembered what it was like, just starting out and feeling like, this is a mystery. People don't want to share it.
Even my husband when I was practicing with him, he was like, "You're going to share all the secrets? What about competitors?" And I'm like, "I really truly believe that rising tide lifts all boats."
And I want as many influencers or content creators, whatever term you want to call yourself to be good at this. Because every time they have a good interaction with a content creator, from a brand perspective, it means that they want to work with more of us.
And so, if they're going out, and they're meeting a content creator, who is not good at this, they may get a sour taste in their mouth. So I want to educate as many people as possible this is what the process looks like, it doesn't need to be a mystery.
It's not rocket science. But there are a lot of strategic steps for you to be really, really successful in this.
And what I realized by writing it down on paper, one of the things that we talked about was really the six different ways that brands work with you. So, it was so nice to be able to educate people on all those pieces.
Jillian Leslie 6:18
Alright, so let's back up for one sec. So, your audience is predominantly moms who are looking for tips, recipes, kind of life hacks, that kind of thing, parenting.
And so, you were concerned like, in my audience, are there bloggers are there people who would want to learn from me how to work with brands. That is pretty specific to bloggers and creators.
Cristy Harfmann 6:44
One hundred percent. And then people who I didn't even know. So, like my best friend from childhood joined. And I thought she was joining just to be kind and thoughtful. But she joined because she's an author.
And she's just starting out as a content creator. And she wants to work with brands. So people who I didn't even think about because their space is so different than the space that I operate in.
We're so excited to learn, because they could partner with brands, just different brands than who I partner with. And so, I had a variety. I had fashion bloggers who were just starting out.
I had moms who literally had accounts that they were just sharing because they love the platform, and had never monetized before. I had bloggers who have been really, really focused on organic traffic.
And then working on their SEO, who had never partnered with brands before who have unbelievable sites.
So there's all these people across the board who were here, I thought for easy recipes, family fun and family travel, but really are wanting to be content creators working with brands as well. And they really only advertise on my Instagram Stories.
Jillian Leslie 7:50
That was my next thing. How did you get the word out? And you did charge for this? You charge?
Cristy Harfmann 7:56
I did $25.
Jillian Leslie 7:58
$25 for one hour. And then did you do Q & A afterwards?
Cristy Harfmann 8:04
So actually, I did Q &A throughout. So I had three different sections. At the end of each section, I did Q &A . And then that way, my daughter who's nine said, "Mom, if you wait to the end, people are going to forget their questions."
And so I highly recommend if you do a masterclass doing it that way. For one, if you're nervous, I certainly was, it gives you a chance to collect yourself to take a breath. And then it gives your audience a chance to ask the questions, so they don't forget them.
And there was really, really great conversation. I wrote a ton of notes because it gave me an insight and what was important to them. So things that I talked about, I talked about the CRM system that I use, there were ton of questions about the CRM system.
Jillian Leslie 8:45
What is the CRM system?
Cristy Harfmann 8:46
It's called Streak.
Jillian Leslie 8:48
But what does a CRM do?
Cristy Harfmann 8:50
A CRM is a customer retention or relationship management tool. And it basically allows you to communicate with your audience in triggered ways.
And so, be able to know everyone that you've sent an email to and to actually schedule emails out to different clients. And so they wanted to know about that.
So, that type of technical piece, I thought we were just going to be talking about, how do you connect with brands? How do you find them? What does brand work look like?How do you land a partnership?
A lot of people are really interested in the CRM piece of it. And like, what's the technical, what day-to-day look like for you as a content creator?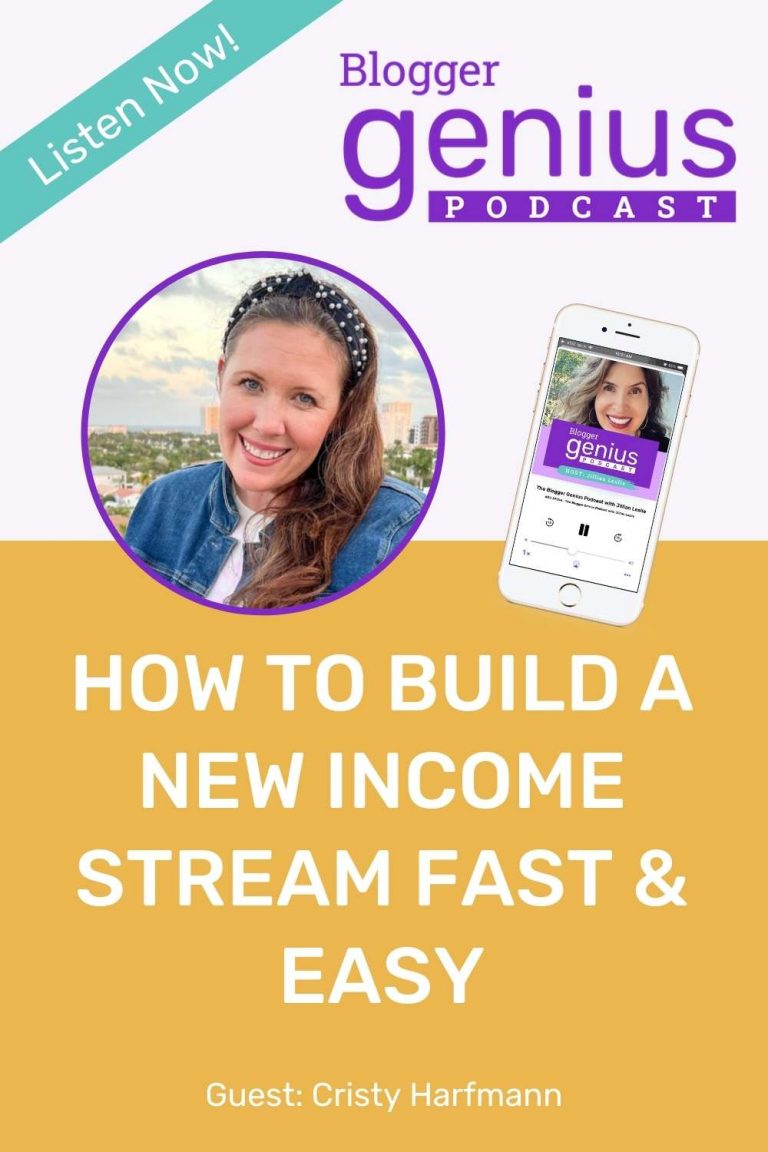 How to Promote Your Paid Workshop
Jillian Leslie 9:27
I was going to say, you're just promoting this in Instagram Stories? Did you run any ads? We had talked about this.
Cristy Harfmann 9:33
I did. Yes. So I ran an ad, a brand awareness ad in Facebook. And it was interesting, it reached almost 10,000 people, I spent about $150. I made a mistake, and I ran it to every single platform that Facebook allows you to.
So that's Facebook, Instagram, and then their network partners, which is basically like all the apps that they have access to, I should have only run it to Instagram and Facebook.
And so I had the plan to do a retargeting ad after, to retarget to the people who had actually watched the video. I got sick, a friend passed away and so I didn't run that. But I'm running it now.
And people were so interested and a ton of people messaged me after saying, "I thought it was next month, I really wanted to sign up." So, I'm going to do a second date, because people were like, "I missed it, I don't want to miss it."
And I've done all the work, I loved it. It really reinvigorated me for my business. It was so much fun. And there's a need for it.
So, I'm going to do another one and be able to help more people figure out this landscape that can be really, really overwhelming if someone doesn't hold your hand and walk you through that process.
Jillian Leslie 10:44
So we talked about this before. After you did it. You said to me, "I could turn this into a course." And I said, "No, don't turn it into a course." Because that seemed like such a natural thing.
ADVICE: Don't Create a Course
But the reason I said this was because courses are hard, you judge yourself differently, the video quality has to be higher, you will find it is not the same. How long did it take you to put together your one hour master class on Zoom?
And you had a slide deck, I gave you a template, and you filled it out. And what I always say is teach three high level topics and you did and then you got questions in between the sections.
I say, be open for questions and give your people a win. That's it. That's the whole formula. So tell me, how long did it take you to set this thing up?
Cristy Harfmann 11:48
I stressed about it for about 10 hours. And the actual work when I sat down with a computer and opened up the presentation template that you sent me in less than an hour, I put the thing together.
And then I went back to it a couple of times and sent it to you, you gave me some great feedback, I sent it to my husband, but really the whole thing took me an hour. The hardest part was scaling it back.
And that's I was writing like, oh, we should talk about this or like once you start getting excited about it and start to understand this imposter syndrome. It stops us from believing that our knowledge is so deep.
And I like to say all brands are difficult to work with. And they're not difficult to work with. But like, after eight years, I have a lot of information and knowledge about image rights and contracts and exclusivity.
So when I was working on it I was like, oh, I should talk to them about it and they're like, no, no, I'm going to be talking for three hours. And that's where I was like, there's enough work here to be in a course.
And I want to share it and I want to write it down and I want to know it. But I'm 100% in agreement with you. After you and I spoke I said I think I want to turn this into an eBook. And so you recommended Otter AI, and I use them.
And they took my master class and then transcribed it for me. And then I took that and I was able to work on the e book, which I will hopefully have finished soon after a little bit of editing.
And I realized what I just told you before I say the word "so" like, every fourth sentence, maybe every other sentence. And if I was doing a course, I would have had to rerecord the whole thing because I wouldn't have noticed.
Because it was live, it was part of who I am. It's part of my personality. It was fine and so I totally agree with you that when it's live, people understand. We've all been on live Zooms things go wrong.
You're not as eloquent as you would be if you were in a course and so I'm in 100% agreement with you. If I did a course it would take me forever because I would watch it I would have my husband watch it and my friends watching it and then I'd be editing it.
And it would sit in this like cycle of do over and do over and do over for months and months and months. Where I liked the live where it was like I'm here I'm ready. I'm as ready as I can be.
And then we're going to go and if it's not perfect, that's okay, I'm a human and that was part of the interaction that they got to see that I'm a real life person who's not perfect.
And if I can do well making money with brands then they can as well because none of us are perfect.
Turning a Paid Workshop in a Membership
Jillian Leslie 14:20
I love that. One thing that I know so I talked to you afterwards and you were so excited. And what was really cool was I could see the light bulbs turning on above your head like you're a cartoon character.
Because you saw the possibilities. I keep saying your first workshop which could be a master class. It could be like a quick win workshop.
Give your audience a win give them something where they say, "Yes, Cristy is my girl. She's hooking me up. I can move forward on my path to success." And then though I saw that you understand, it came into focus for you.
"Oh, I could build this out with all these different legs to my business." And I could hear you and will you share? So you said, "I'm going to do it again."
So, your first thought was, "I'm doing it again, because I know what I'm doing people miss the first one. I'm going to run ads differently, I'm going to learn. I've already created the presentation."
So that was the first thing but then how else have you been thinking about this?
Cristy Harfmann 15:30
So, then I also created a membership. And I have my first person who has already signed up for it. And so it was totally your idea. And I'm so grateful for it. And so in the membership, we're going to talk about from pitching all the way to getting paid.
And every month, I'm going to have a different topic. We're going to do a live Zoom, so that people in the membership can join me. And then we'll do a second one. That's just Q & A.
And each time I'm going to give them some homework. I gave them homework this time as well. We gave everybody a pitching guide, and then gave that to them as their homework. They sent it back to me.
And then I did a personal review did a little video and send it to each person that sent it back to me saying, "Here's what I would tweak. Here's what I would do differently. Here's what I think you should focus on."
And so I have hoped to give everybody homework because I think it's really important. We all take so many classes and courses and masterclasses and then we don't do anything with the information.
So I think it's really great to have somebody holding your hand that says, "Hey, this is what you were supposed to do, did you do it?" And if you didn't do it, I'm going to meet with you in two weeks again, and let's make sure you did it.
Because we all need that little push sometimes to get us to do the things on our to-do- list that maybe we don't want to do. Or maybe we have other things that are pushing that back.
Jillian Leslie 16:45
Or we have our imposter syndrome and it keeps us from doing it.
Cristy Harfmann 16:51
100%.
How a Paid Workshop Gets You to Find Your True Fans
Jillian Leslie 16:51
The thing that I would say, based on talking to you, again, this speaks to the idea of courses, you loved the interaction. And when you do a course, remember I'm going to go spend six, nine months putting together a course.
And then I'm going to figure out and I have to sell it and launch it. But I'm not participating with the people who are, let's say, going through my course they're in a different world than I'm in.
Whereas when you show up live, you have that human interaction. So, you're feeding off of it, they're feeding off of it, and they were communicating with you.
Cristy Harfmann 17:30
And they were asking such good questions. And it really made me think I could make a really huge impact in their business. Because they care they just need that missing piece that they haven't been able to find somewhere else.
Like, how do I actually get ahold of a brand? How do people read my email? How do I find their emails. And so that was a big, big win that we did in the masterclass was like, this is the first way that I go about finding brands, email addresses.
And I gave them homework to do exactly that. And then to tell me what brands they were able to reach out to. And a couple sent me like, "This is what I'm going to send. Is this good?' And we were able to tweak it together.
Other people are like, "Here are the seven brands that I've reached out to." I'm like, "Alright, keep me up to speed." I want to see them be successful, because that's like, the greatest win to be able to share our information.
I think I've always wanted to be a teacher. But the concept of like going to a university and standing in a classroom, when you have two children and a husband is very overwhelming.
But being able to do it from the privacy of my own office on Zoom is amazing. And it's so easy to reach people. I had people in California, I was all across the country. If we had done it locally here, I would have missed that opportunity to connect with them.
Jillian Leslie 18:48
What's funny you work with your husband, he helps you reach out to brands, and even one of the people said, "I want to work with your husband."
Cristy Harfmann 18:57
Yes. Which we need to hear. He said he's interested. So yeah, all these things that I didn't even know that people wanted. A lot of us need somebody to pitch because pitching is not difficult once you have the system in place it's just time consuming.
To identify the brands that you want to work with to figure out who to contact and then to do the constant follow up to start the conversations. And that's even just to say, "Yes, I'm interested."
And then once they're interested, there's a whole other series of conversations that needs to happen about deliverables and pricing and all of these. Is there exclusivity? Is there not?
There are so many conversations, but just even the beginning of finding the gatekeeper and how to get in. It's cumbersome and takes a lot of time and I was going to hire it out. And so, I'm super grateful that my husband was open to me saying come work with me.
Jillian Leslie 19:47
Totally. Because he have now this whole other business that he didn't anticipate.
Cristy Harfmann 19:50
He totally could.
How a Paid Workshop Grew Other Parts of Your Business
Jillian Leslie 19:52
Will you talk to me though, before we press record you shared this really lovely story about you just landing your biggest brand deal and how that weirdly, is tied to you doing this workshop?
Cristy Harfmann 20:07
It is. It's really interesting. So I just landed my biggest deal. It's a six month deal for the largest amount of money that I've ever charged a client.
And when I was talking to a friend the other day, we were talking about some people and saying, "Oh, do you know that they charge this amount of money?" And I was like, "Oh my gosh, that's a crazy amount of money."
And my girlfriend is like, "You know, the contract you just signed. It's more than that per post." I'm like, "Oh, interesting." So, I think that this did a couple of things for me. One, it made me realize that I'm really good at this.
And I almost needed to be reassured for that. Because sometimes you're like, "Oh, gosh, are they going to pay that?"
And then two, I have other ways to make money besides making money through brand deals. And so, it gave me a lot of freedom to say, I'm going to pitch them the number that I think that I deserve.
And if it doesn't align with their budget, that's okay. I have time, I need to be working on my membership. I need to be promoting that I need to be working on the masterclass, I need to finalize the eBook.
I've got a lot of other things that are going to be revenue streams for me that I should focus on. And so if this isn't work, then that's not how I'm supposed to be allocating my time right now.
Where in the past, I may have been like, well, I love working with brands, because I do. That's where I want to put all my energy. But now I have all these other potential revenue streams and revenues.
Just today, I got another deposit from the masterclasses and I'm like, "Oh, this is so much fun." Like it goes directly into your bank account. And you're like, "Hello, how are you?"
So, it's another great revenue source that hopefully I'll be able to grow and grow and grow. And then I'm less dependent on brands, which, boy oh boy, when that pandemic happened, I would have loved to have not been so dependent on brands.
Jillian Leslie 21:54
So, couple things that I'm hearing is that by doing this, and again, doing it kind of B- doing it just like you're going. You put a date in your account, talk about that.
ADVICE: Put Your Paid Workshop on Your Calendar
Cristy Harfmann 22:07
You were so good about that. You're like, "Okay, so when are we doing this?" And I think putting it on the calendar, and then getting on Instagram Stories and saying, "I'm doing this, I want you guys to hold me accountable."
I said it to almost 70,000 people like I'm doing this and now I have to do it. And so that was really really helpful.
Jillian Leslie 22:25
Literally I think we gave you like it was three weeks. You put it on the calendar. And what I say is, "Spend a week freaking out in your head." And then you spend like two weeks really promoting it.
Like a week to see if people will sign up and do not think about creating the content until I say you've gotten at least two people. Two people sign up, do it because you will learn and it's worth your time.
And it's not going to take a ton of time to put together and you're going to wing it. There is a part of like, I'm winging this, I'm showing up and we'll see what happens. And there's something about jumping into the fire. Where, who knows, that's the unknown.
Cristy Harfmann 23:06
Which is exciting and overwhelming. And one thing that we did that was your recommendation that I really liked is I said, "Do you want to be put on a list to know when this is opening up?"
And then the people who said yes, and I added them to my promotional list for the masterclass, I gave a discount to $5. But still, instead I want you to have an early bird special price to make them realize that to give someone your email address is a lot.
And I was so grateful that there were people that were saying "Yes, notify me as soon as this is ready." And that helped give me some confidence too like, there are people that are really interested in this because they've said, "Reach out to me when this is ready."
Because I wasn't sure how to step right. Like do you wait until everything is done and you have a website? Or do you start talking about it? And so, I think talking about it before you and I haven't even finished the landing page was really good.
Because I could say message me or send me your email, start those conversations and one of the recommendations that you said that I'm going to do this time. I was just dropping the link saying, "Want information about my masterclass, click here."
You said ask them to DM you. And so, this time I have done that so that I know who's interested. And you can always go back in Instagram Stories to look at who's clicked on the links, but I like this. A lot of this is a personal relationship and a conversation.
And like a couple of friends. I knew that they were interested but I didn't want to be pushy. And then they're the ones that said, "Oh my gosh, I missed it. I'm so sad." So, I think you're not being pushy.
I was listening to someone speak the other day and they said, we think we're being salesy, but if you're providing value, you're serving people not selling them, and I really love that mindset switch.
I should have gone back to those friends that I know needed this information because I would have been serving them not selling them. And it would have been information that would have really added value to them.
And so, I think that whole piece of switching from thinking you're selling yourself to really serving your audience is really good.
Jillian Leslie 25:04
And I think too for us with Catch My Party, we've talked about this, there's a distance between your audience and you, it's almost like you're putting out a magazine, it's kind of curated and you're there and you're showing up in your lives.
But lots of people are watching your lives who are not interacting with you. It almost feels a little bit sometimes like yelling into the abyss. Like, are people out there? And I think for me, that was so interesting was when we started.
So, we have Catch My Party, it's this big site, but it does feel a little bit like a magazine. And then when we started working with bloggers closely, they became my friends, I became invested in their businesses.
And it shifted the whole way I saw my own business, and I saw what we were providing. So then we came out with our pop-up app, which was for bloggers, but they were bloggers like this sea of bloggers.
And then they became individual people who I could watch them on their journey. I could point out to them, like, hey, you're doing an awesome job, or hey, maybe you could switch this in your business, and it might help you.
And the personal element, I will tell you that our membership, for example, got me through the pandemic. Just showing up on Zoom with human faces, ready for it, not talking about the pandemic.
Just talking about our businesses that bonded us was so deep that for me, what makes me happy every day is like working with you, Cristy. It's like creating tools that help you make money, but building that relationship with you.
And then seeing your success and you messaging me going, "It was great." And me being like, "Oh my God." And then saying to David like, "Cristy did a workshop, and it went really well." What's better for me. And so, it's just like happiness all around.
Using a Paid Workshop to Make a Human Connection
Cristy Harfmann 27:06
100%. And I think we need that. You and I talked earlier about how after this pandemic, we're all a little socially awkward. And I think that these are great opportunities to have human connection again, and have a Zoom, that's not just like a wah, wah, wah.
But like have a Zoom meeting where like people truly get to know you. One of the things that I did opening was asked people to put their information in the chat so they could get to know each other.
And a couple people messaged me after, "I didn't write down everyone's information, could you send out everyone's information, who was on the call?" People are really, really hungry to connect with each other again.
And I think I've talked about this a lot. If you are a content creator, and you have not found your tribe, which is a word I don't love. But if you haven't found your friends who are also content creators, you're missing this whole world.
You and I have this connection, because we get it. And we get it because our friends who are not in this world will never get it. It feels like Oh God, I love that saying oh, everyone thinks you're lucky. But they didn't see the hard work behind it.
As a content creator, we're supposed to make things look easy. And just like, oh, we just go on trips.
Jillian Leslie 28:15
My life is a photoshoot.
Cristy Harfmann 28:17
Exactly. So, I think that having this opportunity to connect with other content creators is so valuable, especially if they're not in your niche. And if they're in your niche, they're going to be the first one.
I have a couple of friends they're always the first ones who comment on my stuff. They understand how important that is. They give genuine comments because they really do care about me in my business, where like, even my best friends don't comment.
And it's not because they don't love me. Because they just don't even realize no matter how many times I'm like, "Hey, like, share, save. Come on, comment."
Jillian Leslie 28:50
They don't know there's an algorithm. They don't get it.
Cristy Harfmann 28:53
They don't know that the algorithm runs and ruins your life. So, they don't get it. I think that finding that community. And seeing that people who join this masterclass, they wanted that.
They want this community of other people who are in a similar place to them was really, really interesting and seeing that they want to connect.
And so, if you are not connected with other content creators, and you are one. Even if you're a small one and just starting out, you have to find that group of people. They'll be the ones.
I had a couple of friends when I got the deal on Friday, who I called, they were the same ones I called when I was pricing it out to say, "I'm thinking this. Am I crazy?"
ADVICE: Find Your Community of Content Creators
Those are your friends who you could call to be like, "I'm not trying to be bragging but oh my goodness gracious. Do you know what just happened?" And they would do the same for me.
And I feel like it's important for a sanity point to have that community. And to have these people. Generally for me, it's women, but there are men who are content creators as well. My group of friends happens to be all female.
To have that group and I think these opportunities to bring people together on one subject really helped because these are all people who care about what you want to teach.
And so for me, it was really, really fun to be like, okay, I met new people that I would have never met before I know something about their business, like you said, I invested in their businesses now.
Jillian Leslie 30:12
Totally.
Cristy Harfmann 30:12
And they want to support each other.
Jillian Leslie 30:14
So, if somebody is listening to this, and they're going, I don't know, there's this topic, maybe I know a little bit about but I don't know, is this worth it? Is it so much work? What if nobody signs up?
I'm busy as it is, I've got a lot of stuff going on, what would you say to them?
So it is really, if you could dedicate 10 hours for the entire start to finish of it. It's done. And then you can find out if you like it, and if you dislike it terribly, then you could say, chuck, never do that again.
Or if you're like me, and you loved it, you could then say, "Hey, let me use this software to write an eBook. And let me host another one and let me start a membership. And let me find a new way to connect with my followers and to support other businesses."
Because to me, that's going to be the coolest part of the end of this. I can't wait for when one of the women who came to my masterclass calls me and says, "I landed my first brand deal, or I landed my biggest brand deal ever."
Turning Your Paid Workshop into an Ebook
Because I use the strategies that you talked about, that's going to mean so much to me, because that means that another family is being impacted by the knowledge that you have.
I think if you were to sit down, you would realize that you're way more of an expert than you realize even terms that you know. We talked about, CRM, people are like, "What is the CRM?"
Things that you take for granted that you know, other people have no idea what it is, and are so grateful for you to break it down?
Jillian Leslie 31:55
Totally. Now tell me. Because right now, I'm going to work with a couple more creators like you. Again until I can kick my own tires on my product and go, "Hey, does this work? Does this not work?" This is a weird question. But what was it like working with me?
Cristy Harfmann 32:18
That I'm like, madly in love with you.
Jillian Leslie 32:19
I know. But again, it's an awkward question. But what was that process like?
Cristy Harfmann 32:25
I love love working with you, because you're a mentor, I feel like you pull the good out of people that they don't even know is there. And so, that is the greatest gift that people would be so blessed to have the time to sit and work with you.
And you really take it down and say this is what's most important, and I really appreciated that. These are like do three things. Because if I had shared with you before, I do some coaching through a business locally.
And they had asked me to do a masterclass. And I said absolutely not. And I had them cancel all of my contract. And then after I did this, I did a similar presentation for brands to say how do brands work with influencers, so just rehearsing it.
And I said to the gentlemen. "Okay, I'm ready to do the masterclass now." And he's like, "You said, you didn't want to do it, what changed?" I'm like, "Jillian changed me." You made me realize that it wasn't so overwhelming.
If you were just to not give anyone the steps. This would have taken me six months to a year just to do a one hour. Because I would have been searching for templates and my template I found wouldn't have been good enough.
And you really said, "Here, fill out these two forms." And then now we know that I have a subject that I could actually talk about and you can go.
So, I think if somebody has the opportunity to work with you, they would be foolish to say no, and they will realize how much they know. And that's like the greatest gift to walk away with. It really is such a confidence booster.
Jillian Leslie 33:55
I have to thank you, I am so touched and honored that you said that. And I want to work with a couple more of you for free to help you set up either a paid workshop or an easy membership. So definitely reach out.
Becoming More Confident as an Entrepreneur
Now the one thing I will say that I will leave with and feel so good about is you telling me that you are more confident as an entrepreneur today than you were three months ago.
And I want to say, whatever higher power you believe in, weirdly, it was good that you've lost your Instagram and you got it back. But it kind of shook you up and got you uncomfortable and scared in your business where you had gotten comfortable.
Cristy Harfmann 34:40
100%. I think it was you and I talked about a lot. It ends up to be the greatest gift ever. And those five days I would not have told you it was the greatest gift ever.
You think that a global pandemic and brands even like Clorox, who was one of my clients saying, "Oh, we have no products so we can't pay you the contract that we have with you."
You would have thought that a global pandemic would have made me realize that it's scary to have a majority of your income come from brand work, but it didn't. Somehow I just charged on through.
And so, I am like you said, I'm super, super grateful because I would have never explored this avenue and I love it. I am so grateful for you because I feel like it really reinvigorated me for my business.
Instagram can make you down these algorithms can make you sad. That sounds so silly. A lot of people say you're not supposed to do it for the likes. You're not doing it for the likes.
Jillian Leslie 35:33
You're doing it for your business, you're doing your business, you're putting food on your table. It isn't because you want people to just love your outfit. It's because it's different.
Cristy Harfmann 35:47
And engagement is everything for brands. Not about me being liked. But yeah, it has just been such an incredible experience. And I'm so grateful for you.
Jillian Leslie 35:58
Alright, Cristy. If people want to reach out to you and connect with you. I will put in the show notes, a link to your next workshop and your membership.
Cristy Harfmann 36:11
Perfect. Thank you.
Jillian Leslie 36:13
Absolutely. But if people want to reach out to you, because they've got a question about working with brands or about doing a paid workshop. How can they do it? What should they do?
Cristy Harfmann 36:24
Of course, so my blog is Happy Family Blog. I'm happyfamilyblog.com. And then I'm Happy Family Blog across all social channels. I'm on Instagram, majority of the day. So, that's generally the best place to find me.
But you can find me on Twitter, on Pinterest on, Facebook, any of those and my email is Cristy@happyfamilyblog.com. I'd be happy to answer any emails. Like I said, I'm just loving being able to teach people the secret sauce of working with brands.
And so, I'm here if you ever have any questions, I'm pretty much an open book because I really do. I want all of us to be wildly successful, because I think that only raises everything for all of us.
And then brands will want to pay us more and more money. I don't want people to be working for free anymore. Gone are days working for free.
Jillian Leslie 37:13
I'm with you. You are preaching to the choir. Cristy, can we check in again? Because it's really exciting for me just watching the light bulbs and watching you putting things into practice.
So can we check in another couple months to see how your membership is going? We were talking about maybe you do some in-person mastermind in Florida with creators. Like who knows where this is going?
Cristy Harfmann 37:41
I would love that. The sky is the limit. I'm super excited to see I'm even starting to write more blog content on how to work with influencers and all of that. I would love that. I can't wait to see where all this takes me.
Jillian Leslie 37:54
Awesome. Well, Cristy, thank you so much for coming back on the show.
Cristy Harfmann 38:00
Thank you for having me. It's a pleasure. As always,
Jillian Leslie 38:03
My intention with doing this episode was to inspire you. Hopefully some light bulbs went off in your head. And if you want to set up an easy paid workshop or a simple membership, I am working with people one-on-one right now.
Come Work With Me for Free to Set Up Your Paid Workshop
Again, testing MiloTree Easy Payments. I would love to work with you for free, please email me at jillian@milotree.com.
We'll throw around some ideas. I'll get you set up so that you can start building this closer relationship with your audience and find a whole new way to build your business. So again, reach out to me at jillian@milotree.com. I'd love to hear from you.
Also, if you want to check out MiloTree Easy Payments the easiest way for female content creators to get paid directly from their audiences. Head to milotree.com/easy payments.
And remember, there's no monthly fee we just take a small transaction fee based on your sales. So we only make money when you make money. So set up your account, set up a product, set up a free sales page.
Let me know what you think. And I will see you here again next week.
Other Blogger Genius Podcast episodes to listen to:
Imagine a world where growing your social media followers and email list was easy…
If you are looking for ways to grow your community whether that be email whether that be social media, right now head to Milotree.com install the MiloTree app on your blog and it will do the work for you. Let it do the heavy lifting for you.
Let it pop up in front of your visitors and ask them to follow you on Instagram, TikTok, Pinterest, YouTube, Facebook, join your list, check out the exit intent but really get your community growing. And we'd love to help you with MiloTree. And I will see you here again next week.
Sign up for MiloTree now and get your first 30 DAYS FREE!