Yes, Pinterest followers matter!
Your Pinterest follower number really does matters. But not just having any followers… high-quality followers.
Why you want high-quality Pinterest followers to get more organic traffic
When you pin something new to one of your boards, Pinterest shows that pin to your followers first.
If your followers love the pin and interact with it, Pinterest shows it to more and more people. And that's how your traffic explodes!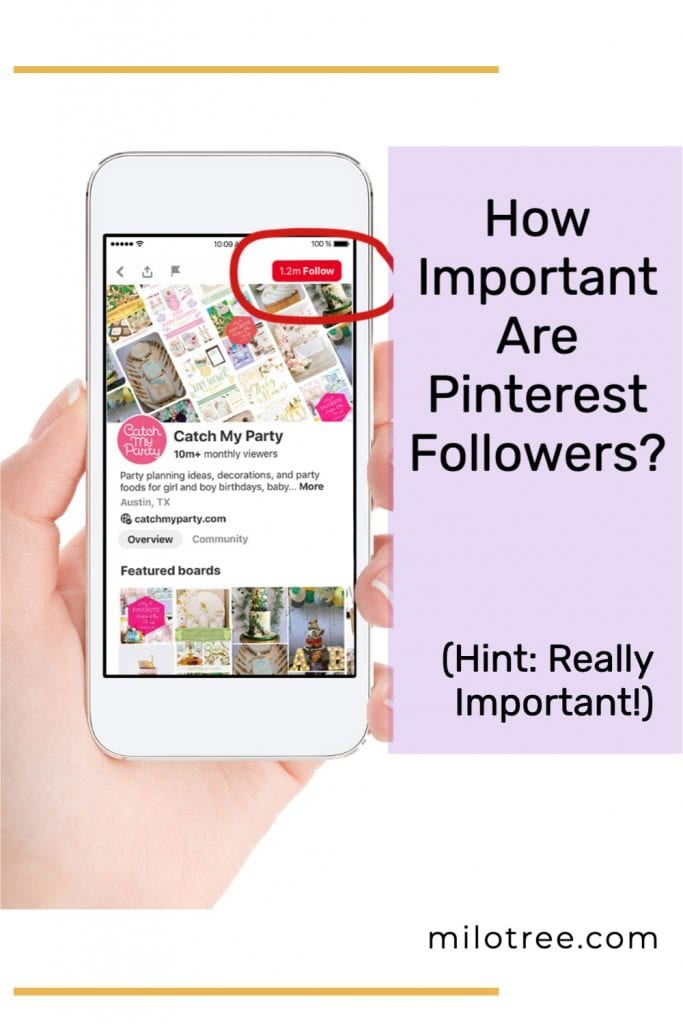 Pinterest wants more creators on the platform
Have you noticed that Pinterest is taking a page from Instagram's and TikTok's playbooks? They are trying to create a more creator-friendly platform.
Instead of sending people off the platform, it makes sense for them to keep people on it.
This is why Pinterest is learning into stories and video.
Instead of Pinterest being a visual search engine, they want Pinterest to be a destination. And from a mere financial perspective, it makes money for Pinterest because if they can keep people on the platform for longer, they can show them more ads.
So, in terms of Pinterest stories, have you noticed that once someone reaches the end of your story, they end up on your profile page? And what do they see? Your follower number!
So how do you get high-quality Pinterest followers? Through a pop-up tool called MiloTree!
It's a pop-up app you install on your blog that slides in and asks your site visitors to follow you on Pinterest. It's personalized with your most recent pins, and it works!
(And you can demo it instantly!)
Because MiloTree converts your blog visitors into followers, these are the highest-quality followers you can get. And that's why professional bloggers LOVE MiloTree!
So what is MiloTree exactly?
MiloTree is a pop-up app you install on your site (with a WordPress plugin or one line of code).
It's automatically populated with your most recent 8 pins and has a big "Follow on Pinterest" button instructing your visitors to follow you.
If you want to see it in action, head to our sister site, Catch My Party. We initially built MiloTree for Catch My Party.
Then, when it worked so well for us, we rolled it out as a separate company to help other bloggers and creative entrepreneurs grow their Pinterest following.
And with MiloTree, we've grown our Catch My Party Pinterest account  to 1.5 million followers, sending us millions of page views per month.
Why is MiloTree such a game-changer?
Because your visitors make the highest-quality RAVING FAN followers you can find! They already know and adore your content!
Join over 9,000 happy customers who have collected over
25 million

social media followers and email subscribers using the MiloTree smart pop-ups.

"With the help of MiloTree, my Pinterest following has increased by over 2,000 followers in less than a month!!" — Whitney Cornelison from Beauty in the Mess.

Less than 2 years ago I started my blog, Swaddles n' Bottles. It has since grown to having 6.6 million pageviews. I know a HUGE reason this has happened is because my readers have followed me on Pinterest when visiting my site and seeing my MiloTree Pinterest pop-up. Milo Tree is just such a great tool! — Caroline Simmons Swaddles N' Bottles

Sign up for an account on MiloTree and get your first 30 days FREE! It's only $9/month after that and you can cancel any time.

(MiloTree also offers pop-ups to grow your followers on Instagram, Facebook, and YouTube, plus your email list and you can get them all in your one subscription.)

pin now, reference later
_____________________