The truth is out. Popups work! They easily convert your traffic into followers, subscribers, customers, and income.
But the question is what is the best popup for your blog or business?

This is where MiloTree comes in, because the MiloTree popup can grow many of your platforms at once.
With MiloTree, you can grow your Instagram, YouTube, Facebook, and Pinterest followers, plus your email list. And that's all from your one popup.
MiloTree asks each of your visitors to perform one action — to follow you or subscribe. Then when that visitor returns to your site, it asks them to perform another.
So if you configure your popup to grow your Instagram following, YouTube subscribers, and email subscribers, when someone comes to your site for the first time, they will see one of your personalized popups. Then, when they come back, they'll see another.
Here are some sample popups from MiloTree customers.
YOUTUBE POPUP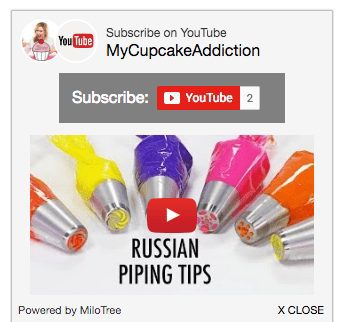 INSTAGRAM POPUP
EMAIL POPUP
One will show randomly to each visitor. Then we know which ones people have seen, and show them another one.
Plus, we've worked really hard to optimize your popup so it shows the same popup, but a smaller, Google-friendly versions on mobile.
This way, you have nothing to worry about showing your MiloTree popup on mobile! Your mobile audience is important for the growth of your business!
Customize and add your pop-up to your site in under 3 minutes. We provide you an easy WordPress plugin or a simple line of code to install it.